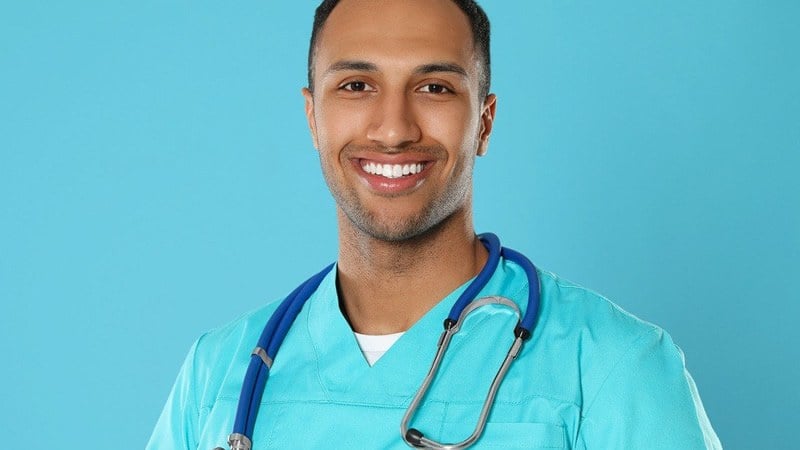 Are you seeking an accelerated nurse practitioner (NP) program to fast-track your advanced practice nursing career? Online master's and doctoral NP programs are usually offered through a blended learning model that allows you to complete the didactic courses online. You'll also complete in-person practicum hours at specific intervals within the program to obtain hands-on experience.
While there is much talk about the need for nurses, the U.S. Bureau of Labor Statistics (BLS) estimates needing more than 100,000 new NPs between 2021 and 2031, making advancing your nursing career into a graduate nursing field an excellent decision.
However, deciding to become an NP is only half the battle. You have many decisions, such as choosing a specialization and a nursing school to achieve your dreams. To help you make an informed decision, we've rounded up the top 10 fastest higher education programs for NPs in the U.S.
But before we showcase the fastest NP programs, let's cover the basics of the profession and what you'll need before you can be accepted into a master's degree program.
What Is an NP?
NPs are advanced practice nursing professionals with specialized clinical competencies allowing them to practice in acute care, long-term care, and primary care settings. All NPs must first be registered nurses (RNs) and attend a Master of Science in Nursing (MSN) or Doctor of Nursing Practice (DNP) program.
NP Program graduates must take a rigorous national certification test to obtain their licensure. They also undergo periodic peer reviews, and their clinical outcomes are evaluated regularly to ensure they are safe and effective healthcare professionals. In addition, these clinicians use evidence-based practice decisions during their clinical practice to provide holistic patient care.
Much like RNs, NPs must obtain licensure in the state where they practice. They work in emergency rooms, urgent care centers, clinics, hospitals, and private practices. Everyday tasks NPs perform include:
Performing thorough physical health assessments
Ordering, performing, and interpreting X-rays, laboratory tests, and other diagnostic testing
Diagnosing and treating acute and chronic health conditions
Prescribing medications and other treatments
Educating patients on disease prevention, treatment, and self-care strategies
NP Prerequisites and Requirements
Becoming an NP isn't easy. NP programs are rigorous and packed with evidence-based curricula and at least 500 clinical hours with actual patients. However, knowing the steps before you start can make the process much easier. So, let's dive into the admission requirements and the steps you'll need to take to become a nurse practitioner.
Obtain Your BSN
You must first be a licensed RN with a Bachelor of Science in Nursing (BSN) degree before applying to and being accepted into an NP school. If you have an ADN or other entry-level degree, you must enroll in and complete a bachelor's degree in a nursing program before advancing your nursing education.
Pass the NCLEX-RN
Holding a BSN alone may not be enough to begin enrolling in your chosen NP Program. Most nursing schools require you to take and pass the national board certification exam required for an RN license. Once you pass, you must also follow all the steps to become fully licensed in your state.
Many NP programs require at least two years of clinical nursing experience as a prerequisite. However, other programs allow you to go directly into the NP Program without clinical nursing experience.
Enroll in a Graduate Level Nursing Program
The most straightforward route from RN to NP is to attend an online master's program. Some colleges offer a DNP, the highest nursing education level you can complete. However, most of the time, master's programs are shorter compared to DNP programs.
The requirements for each NP Program are unique. So, thoroughly review the program requirements before beginning the application process. Below are some of the most common eligibility requirements for NP programs.
Evidence of a Strong Academic History
Being successful in NP programs begins with a solid base in nursing practice. Therefore, most online NP programs will require a minimum GPA for admission. The most common GPA requirement is that you carry a 3.0 or higher from all previous academic institutions.
Nursing Practice
You may be required to prove that you have at least two years or more of clinical experience as an RN. In addition, you'll likely need to show proof of employment or sign an affidavit stating that you meet this requirement for enrollment.
Research and Choose an NP School and Specialization
Finding the best college of nursing can be challenging. A few things to consider as you begin looking at NP programs include the following:
Pass rates on the state exam administered by the American Nurses Credentialing Center (ANCC) or American Association of Nurse Practitioners (AANP)
Faculty-to-student ratios
Format of the program, such as in-person, online, and blended
Length of time it will take you to complete
Full-time and part-time options
Personal learning style and specific learning modalities used
Wrap-around support services offered to help you succeed
National versus regional accreditation
MSN versus DNP
Specialization, such as family nurse practitioner, adult-gerontology primary care, women's health, and others
Complete the Application Process
NP programs are rigorous, and the application process is too. Common steps you'll need to complete include:
Take and pass all required entrance exams or prerequisite graduate-level coursework.
Complete the physical application, which includes demographic and academic information.
Write a meaningful and personal letter of intent describing why you want to become an NP
Request and provide two or more letters of recommendation from others who know you as a person and a nursing professional. Choose colleagues or nursing leaders who can speak to your dedication, clinical excellence, moral and ethical practice, and personability.
Complete an in-person or online video interview with one or more College of Nursing faculty and staff. Think of this as your first NP job interview. Dress professionally as you would for a job interview—research and practice the most common nurse practitioner school interview questions to be prepared
Fastest NP Programs in 2024
The following schools are selected based on allnurse's methodology of surveying our readers to understand what they value most when selecting programs. We also consider factors like state testing pass rates, graduation rates, student-to-faculty ratios, cost, duration of the program, and admission rates.
The MSN program at Vanderbilt University has much to offer. They have multiple entry options, making enrolling easy regardless of your previous higher education journey. In addition, this school has a robust program menu that includes many advanced nursing practice specialties. A few of the programs you can choose from include:
Family nurse practitioner (FNP)
Adult-gerontology acute care nurse practitioner (AG-ACNP)
Emergency nurse practitioner
Psychiatric-Mental Health Nurse Practitioner (PMHNP)
Women's Health Nurse Practitioner
This school boasts a graduation rate of 92% and a 2020 employment rate of just over 96%. And in 2021, 4.4 out of 5 students surveyed felt prepared to practice the art of being an NP. This program prepares you well and helps you achieve your goals quickly in just 12 months.
Are you looking for an MSN FNP Program in South Carolina? The FNP program at Anderson University can help you achieve your goals in just 15 months. This hybrid program covers subjects like advanced pathophysiology, advanced physical assessment, and advanced pharmacology.
You'll also learn how to deliver primary care across the lifespan so you can work with pediatric to older adult patients. In addition, you'll attend multiple in-person practicum hours in different specialties to ensure you have a broad understanding of care with various patient populations.
Union University in Tennessee offers an MSN NP track that will have you graduating in just 16 months. This program focuses on acute and chronic condition management and health promotion across the lifespan.
You'll get the best of both worlds in this blended program, where you can complete the didactic portion of the NP Program online but still attend hands-on training in-person at one of the Jackson, Hendersonville, or Germantown campuses.
The NP Program only admits students in the fall each year. So, you'll need to apply as early as October of the year before to take advantage of priority admittance. Current tuition rates are $685 per credit hour. Financial aid plans are available.
The Orvis School of Nursing at the University of Nevado, Reno, offers seven MSN advanced practice NP programs. You can choose from FNP, adult gerontology acute care nurse practitioner, adult gerontology primary care nurse practitioner, and others. Each program offers concentrations in different specialty areas, so you graduate as a competent practitioner.
The FNP program moves you quickly toward graduation after just five semesters and a total of 46-48 credit hours. In addition, you'll complete a capstone project along with your didactic and practicum hours.
If you're looking for a fast DNP program in Pennsylvania, Chatham University in Pittsburgh has you covered. Each online course in this program is 15 weeks long, making it easily obtainable for busy adult learners. In addition, all courses can be completed online except for a short on-campus residency that must be completed at the end of the program.
This program is accredited by the Commission on Collegiate Nursing Education (CCNE) and will cost you $1126 per credit hour. You'll complete a total of 27 credits and 500 clinical hours. They offer two start dates each year in the fall and Spring semesters.
Herzing University in Wisconsin offers a CCNE-accredited FNP program, which can be completed in as few as 16 months. They offer flexible online study with multiple start dates and will place you in your clinical rotation so you don't have to do all the work.
Herzing also offers mentorship and guidance from doctoral-prepared nursing faculty and extensive clinical practicum experience. In addition, you'll receive exam prep before the end of the NP Program, so you'll be prepared to take and pass the national licensure exam once you graduate. This program currently costs $695 per credit hour and offers five different specialties:
Adult-Gerontology Acute Care NP
Adult-Gerontology Primary Care NP
Family NP
Pediatric NP
Psychiatric-Mental Health NP
South College offers several NP tracks, such as the BSN-MSN or RN-MSN track, so you can easily bridge from one degree to another. These programs range from 18 to 36 months and provide a solid foundation through a blended approach to allow you to continue working while in school.
All coursework is completed online. However, you may need to go to campus but have many options, such as those in Tennessee, North Carolina, Florida, Georgia, Indiana, and Pennsylvania.
This MSN program teaches you to provide primary care services to infants, children, adolescents, and adults. It's rooted in advanced research methods and evidence-based practice, so you'll graduate with a solid understanding of acute and chronic NP care.
Saint Thomas University in Florida offers an online MSN FNP program that can be completed in as little as 18 months. The program consists of 47 credits and has a total tuition of just under $28,000.
In addition, this CCNE-accredited accredited program has multiple start dates each year so that you can find the best one that fits your life and goals, as well as multiple tracks:
BSN to MSN Track: 18 months
RN to MSN Track: 30 months
RN to BSN to MSN Track: 36 months
Are you looking for an online FNP with scheduled immersions in Ohio? Mount Carmel University has two campuses to provide greater flexibility. You'll complete all didactic coursework online and then travel to the school or clinical sites for application days, where you get to practice your new skills.
This program offers start dates in the fall and Spring each year and can be completed in just five semesters over 18 months. The college boasts a student-to-faculty ratio of 8:1, a 97% first-time pass rate, and a 100% overall pass rate, so you can rest assured that you'll successfully receive personalized training from qualified instructors. 
Youngstown State University in Youngstown, Ohio, offers a CCNE-accredited MSN FNP program that you can complete in just 20 months. The in-state tuition will cost just over $24,000 for this 46-credit-hour course.
The didactic curriculum is delivered online. However, you must attend supervised clinical practicums with community providers consisting of 600 hours in various primary care settings.
NP Salary Expectations in 2024
According to the most recent data from the Bureau of Labor Statistics (BLS), the median salary for NPs is just over $123,000, or about $59 per hour. The job growth for NPs is around 40%, which is much higher than the average job growth for other jobs.
The top-paying states for NPs are:
California: $158,130
New Jersey: $143,250
Massachusetts: $138,700
Oregon: $136,250
Nevada: $136,230
It's important to note that the BLS data does not differentiate between NPs with an MSN or DNP. So, the above information is for all advanced practice nurses and may not correlate well to the specific degree and profession of your choice. However, it provides reliable data for determining your projected earnings.
FAQ and Additional Readings (FAQ)
Q: What's the best NP specialty?
A: One NP specialty isn't better than another. When choosing a specialty, the most crucial factor to consider is what kind of APRN you want to be and what patient population you want to work with.
Q: Is getting an MSN or a DNP better when becoming an NP?
A: Understanding that one program isn't better than the other is crucial. Instead, you must consider your long-term career goals and select the degree and program that fits you best.
Q: What type of courses do NPs take?
A: NP students take courses that expand on subjects taken at the bachelor's degree level. You'll also take classes specific to the NP specialty chosen. A few classes you'll take include clinical pharmacology, anatomy and pathophysiology, statistical literacy, and health promotion and disease prevention.