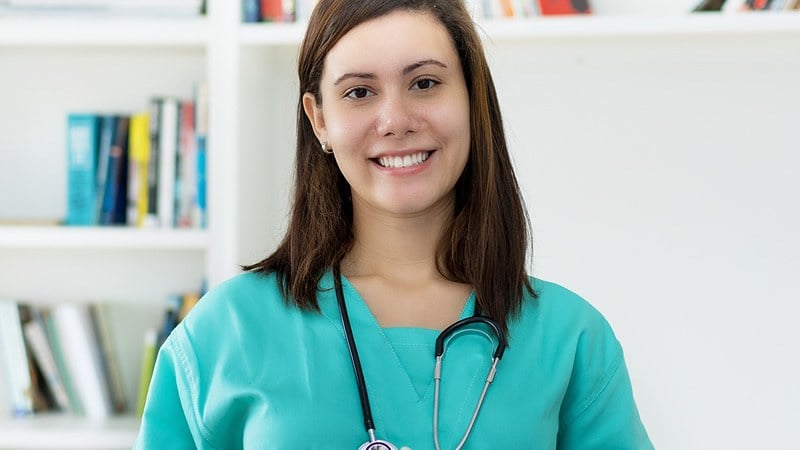 For registered nurses (RNs) holding an Associate Degree in Nursing (ADN), the aspiration to further develop their skills and knowledge often leads them to consider the RN to Bachelor of Science in Nursing (BSN) bridge as the next step.
The RN to BSN bridge not only broadens your nursing competencies but also opens doors to leadership opportunities and increased salary potential. However, the journey to obtaining a BSN is not without its considerations.
One of the most important factors influencing this decision is the financial investment required. Tuition costs and potential missed work hours can weigh heavily on an RN's mind when contemplating further education. Beyond just the financial aspect, it's essential to understand the enrollment prerequisites and set realistic expectations for post-degree salary advancements.
To aid in this decision-making process, we've provided insight into everything prospective students need to know and carefully curated a list of the most cost-effective RN to BSN programs available in 2024. Discover these programs and ensure you're well-equipped to make an informed choice about your educational and professional trajectory.
What Is an RN to BSN?
An RN to BSN degree is a continued education bridge program aimed at practicing ADN-prepared RNs who want to further their career outlook and salary expectations, build upon their nursing skills and foundations, and make a more significant impact on healthcare by acquiring a BSN.
While a Traditional BSN is typically four years long, the RN to BSN program accumulates past experience and coursework to speed up the process and is oftentimes offered in flexible modes such as online or in-person, part-time, or full-time to accommodate the varying needs of students.
Once graduating from an RN to BSN program, some of the improvements RNs can expect in career outlooks include the ability to work in Magnet hospitals, for example, as they require BSN-prepared nurses. Additionally, a survey from the American Associate of Colleges of Nursing showed that 77% of employers strongly prefer nurses with a BSN, while 41% consider it a requirement.
RN to BSN Prerequisites and Requirements
Prerequisites for admission into an RN to BSN program will vary by institution, but standard requirements include the following criteria:
Having completed an ADN program at an accredited institution
Active RN nursing license that is in good standing
Minimum GPA (specific GPA standards vary by school)
Criminal background check
Requirements for completing an RN to BSN program include meeting a predetermined amount of credit hours. Each school will determine how many credit hours will transfer from the ADN courses.
These credit hours include general higher education, electives, and advanced nursing courses. The higher education nursing courses prepare the student to understand the following topics better:
Healthcare systems organization
Quality improvement strategies
Integrating technology and nursing practice
Community health nursing perspectives 
Interprofessional communication and collaboration
Evidence-based practice 
Program completion requires in-person or online classroom work and clinical hours with a BSN-prepared nurse.
Some colleges or universities require a capstone or practicum course. This final course allows nursing students to use their advanced skills to complete an evidence-based project to improve nursing practice or policy.
Most Affordable RN to BSN Program in 2024
The following schools have been selected based on allnurses' methodology of surveying our readers to understand what they value most while selecting schools with the addition of graduation rates, student-faculty ratio, price, mode, duration, and admission rates of hundreds of the most prominent nursing schools in the United States.
Florida Gateway College offers options for full-time (3 semesters) and part-time (6 semesters) studies. These are fully online courses in addition to a virtual simulation lab so that distance students do not miss out on critical learning experiences. This college also offers a career coach to assist with career-building resources after graduation. 
Tuition: $3,730.00
Mode: Online
Duration: 12 months
Accreditation: Commission on Collegiate Nursing Education (CCNE)
Offering several start dates per year, the University of North Carolina at Wilmington's online RN to BSN program boasts flexibility for working nurses. There are also opportunities to continue nursing education with graduate master's degree options. The RN can complete clinical hours at their place of employment.
Tuition: $6,089.13
Mode: Online
Duration: 12 months
Accreditation: CCNE
Roseman University's RN to BSN program allows nursing students to take one class at a time to master topics fully. The nursing program creates an active learning environment fostering virtual collaboration between students. It also has two capstone courses for faculty mentorship throughout the final practicum.
Tuition: $8,000
Mode: Online
Duration: 9 months
Accreditation: CCNE
East Tennessee State University's online format allows nursing students to complete coursework anytime that is convenient for them. Those currently working as an RN can have practice hours count toward the needed clinical hours. ADN students looking to start BSN classes may do so before passing the RN NCLEX exam.
Tuition: $8,935
Mode: Online
Duration: 3 semesters
Accreditation: CCNE
The University of Texas at Arlington offers many different start dates for maximum flexibility. The final capstone course will focus on clinicals, management, or education. Courses are online, though nursing students can complete in-person clinical hours at their workplaces.  
Tuition: $8,995
Mode: Online
Duration: 9 months
Accreditation: CCNE
With six start times per year, Northern Kentucky University offers flexibility for enrollment. Classes are manageable at only seven weeks long. Tuition is the same for in-state and out-of-state students. MSN and doctoral programs are also available to continue to advanced nursing practice degrees.
Tuition: $9,750
Mode: Online
Duration: 10 Months
Accreditation: CCNE
The University of Washington's RN to BSN program offers multiple enrollment dates so students can start when convenient, and they hold classes in various locations. This pathway is a hybrid one-year program with nursing students meeting on campus every other week. Tuition rates are significantly lower if you are a Washington state resident.
Tuition: $4,081 (in-state tuition) to $13,580 (out-of-state tuition)
Mode: Hybrid
Duration: 12 months
Accreditation: CCNE
Florida International University has multiple national rankings for the RN to BSN program. Nursing students can enroll at the start of any semester. This fully online course does consist of clinical hours, which students can complete anywhere with an approved preceptor. 
Tuition: $8,299 to $11,811
Mode: Online
Duration: 1 year
Accreditation: CCNE
The University of Texas at Tyler's RN to BSN program offers flexibility with start and graduation dates, and you can progress through the courses as fast or slow as needed. Though entirely online, it provides direct access to faculty. This program is top-ranked in the state of Texas.    
Tuition: $9,895
Mode: Online
Duration: 12 Months
Accreditation: CCNE
Ohio University offers students maximum flexibility with eight enrollment times per year and only five-week classes. This RN to BSN online program requires virtual meetings with faculty to avoid the interaction gap often found with online learning. Students who still need to take the RN NCLEX can apply with documentation of the date and location of scheduled testing.
Tuition: $10,000
Mode: Online
Duration: 12 months
Accreditation: CCNE
Salary Expectations
Geographic location, years of nursing experience, certifications, and employer will all affect the salary of the BSN-prepared nurse. Urban settings, multiple years of experience, and working for a large health system will have the advantages of higher wages. Travel nursing offers higher salaries but typically fewer benefits, such as health insurance. 
RNs with a BSN degree earn a higher salary than compared with an ADN degree. The BSN-prepared nurse has a great starting point to continue their education with a Master of Science in Nursing (MSN) degree. In nursing, advanced degrees such as the MSN equate to higher salaries. 
The Bureau of Labor Statistics (BLS) notes the RN median pay is $89,100, but this figure does not specify if nurses are ADN or BSN-prepared, although BSN-prepared nurses do earn more than their ADN counterparts. Below are the states with the highest salaries: 
California: $133,340
Hawaii: $113,220
Oregon: $106,610
Massachusetts: $104,150
Alaska: $103,310
FAQ and Additional Readings (FAQ)
Q:  How do I know if an RN-BSN program is good?
A:  Find out if the program is accredited. When a program is accredited, this means the college or university has met rigorous standards and has positive student outcomes. If you were to go on to get an advanced degree, like an MSN, the BSN program you completed must be accredited.    
Q: How can I afford an RN-BSN program? 
A: There are many options available to pay for these programs. If you cannot afford to pay the full tuition, meet with a financial counselor at the school to discuss options. Many students use financial aid options like scholarships, grants, and loans. If you will work while completing the program, check with your employer for tuition reimbursement options. 
Q: What if I am an LPN who wants to get my BSN?
A: The RN to BSN programs require an active RN license. Many schools offer LPN to BSN programs. These programs take longer than the RN to BSN programs but will get you to your career goal of a baccalaureate degree in nursing. 
AD DISCLOSURE: This page may contain affiliate links. These links are designed for allnurses to generate revenue at no cost to you. The websites you visit are operated by third parties and have no influence in our recommendations, which are grounded in research.