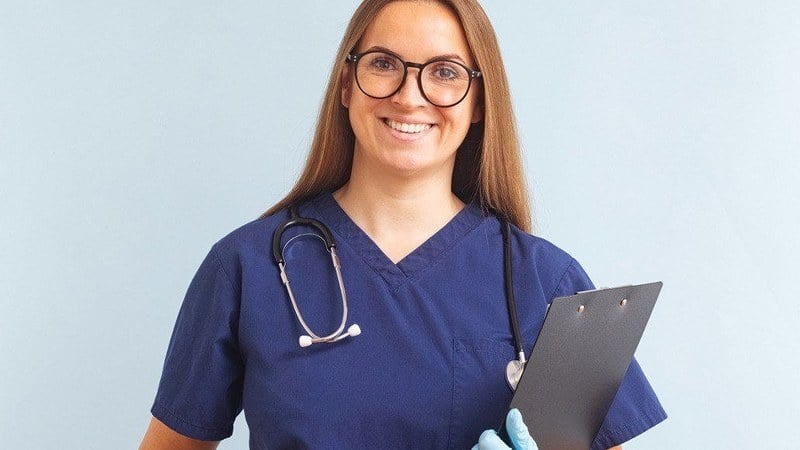 Whether you are interested in family practice, pediatrics, psychiatric care, or other areas, this guide will help you navigate the exciting world of NP careers, providing valuable insights to make an informed decision about your professional path.
NP Overview
In response to the rising demand for primary healthcare services in the 1960s, the NP role was created to fill the gap by providing comprehensive care, including medical diagnosis, treatment, and prevention services. Fast forward to today, amidst the ongoing primary care provider shortages, NPs continue to be indispensable healthcare professionals.
Over the years, the scope of practice for NPs has significantly expanded, enabling them to specialize in various healthcare fields and cater to diverse patient populations. NPs now play a vital role in meeting primary care needs and delivering specialized care across a wide range of specialties.
Regardless of the chosen specialty, all NPs are advanced practice registered nurses (APRNs) who have obtained their master's degree or doctorate in nursing practice, passed a board certification exam, and obtained state licensure to practice. Equipped with RN experience and advanced education, NPs are highly trusted healthcare providers capable of working with patients of all ages in primary, acute, or specialty care services.
The level of autonomy and responsibility NPs have in their professional roles is influenced by state regulations on the scope of practice. Although some states allow NPs to work independently, others require them to be supervised by a healthcare provider or MD. To determine which NP job suits your career goals, it's imperative to understand your state's scope of practice regulations and the responsibilities of the NP specialty you plan to pursue. 
Becoming an NP can bring both personal fulfillment and financial stability. Data from the Bureau of Labor Statistics (BLS) May 2022 report shows that NPs earn an annual salary of:
Median: $121,610 or $58.47 per hour
Lowest 10%: $87,340 or $41.99 per hour
Highest 10%: $165,240 or $79.44 per hour
Naturally, NP salaries will depend on various factors such as geographical location, years of experience, healthcare setting, employer, and specialty. As we cover the best NP specialties, we will explore the different salaries that NPs can expect.
---
Related: 10 Fastest NP Programs in 2023
---
NPs have the advantage of specializing in different areas of healthcare to cater to specific patient populations and their unique needs. By focusing on family practice, pediatrics, psychiatry, geriatrics, women's health, acute care, and various other specialties, NPs can develop a comprehensive understanding of their chosen field and provide specialized care that truly meets the needs of their patients. This level of specialization allows NPs to offer tailored and personalized care in diverse healthcare settings, making a significant contribution to the overall healthcare system.
Ready to embark on your journey toward an ideal NP career? Start by discovering the field of nursing that ignites your passion and the type of patients you aspire to serve. Explore some of the best NP jobs and highest salaries of 2023 below and take a step closer to realizing your professional goals.
Psychiatric-Mental Health NP
Psychiatric-Mental Health NPs (PMHNPs) are experts in providing complete mental health care and play a crucial role in diagnosing, treating, and assisting individuals with psychiatric disorders. They have the advantage of working in various healthcare settings, such as outpatient clinics, psychiatric hospitals, community mental health centers, and private practices. Their specialized training and knowledge make them an invaluable asset in the mental health field, offering their services to patients in different healthcare environments.
Responsibilities
Conduct comprehensive psychiatric assessments to evaluate patients' mental health status.
Diagnose mental health conditions and develop personalized treatment plans.
Provide psychotherapy and counseling to individuals, families, or groups.
Prescribe and manage psychotropic medications to address mental health symptoms.
Collaborate with other healthcare professionals to ensure integrated and holistic care.
Educate patients and their families about mental health conditions, treatment options, self-care strategies, and community resources.
Advocate for patients' rights and ensuring access to appropriate mental health services.
Monitor and evaluate patients' progress, making necessary adjustments to treatment plans.
Salary
PMHNP salaries vary based on experience, geographic location, employer, and healthcare setting.
Unfortunately, the BLS doesn't break down NP salaries by specialty. Based on a Glassdoor report dated September 15th, 2022, they can expect an annual salary within the following range:
Low: $89,000
Median: $130,989
High: $194,000
Family NP (FNP)
FNPs possess specialized knowledge and expertise in providing primary healthcare services to people of all age groups. Their primary focus is on promoting health and wellness, preventing the onset of illnesses and diseases, and managing common ailments and chronic conditions that may affect individuals and families. FNPs play a vital role in various healthcare settings, including primary care clinics, community health centers, urgent care facilities, outpatient clinics, and even in patients' homes through home healthcare services. Their versatility allows them to work in diverse environments, collaborating with physicians, nurses, and other healthcare professionals to ensure that patients receive comprehensive, holistic care that addresses their physical, emotional, and mental well-being.
Responsibilities
Conduct comprehensive health assessments and physical examinations.
Diagnose and treat common acute illnesses and chronic conditions.
Order and interpret diagnostic tests.
Prescribe medications and therapies.
Provide health education and counseling to patients and families.
Emphasize preventative care and promote healthy lifestyles.
Salary
FNPs have the potential to earn varying salaries based on their experience, workplace, employer, and healthcare environment they operate in.
As per the Glassdoor report dated September 2022, FNPs can expect to earn an annual salary within the following range:
Low $98,000 
Median $150,357 
High $232,000
Pediatric NP (PNP)
PNPs specialize in providing comprehensive healthcare to infants, children, and adolescents. They play a crucial role in promoting the health and well-being of pediatric patients and managing their unique healthcare needs. PNPs can work in various settings, including primary care clinics, specialty pediatric practices, and acute care facilities.
Responsibilities
Conduct thorough pediatric assessments, including growth and development monitoring.
Diagnose and treat common childhood illnesses and conditions.
Administer vaccinations and immunizations.
Provide primary care services, such as well-child exams and routine screenings.
Manage acute and chronic illnesses in pediatric patients.
Collaborate with parents and caregivers to develop individualized care plans.
Offer health education and counseling on child health, nutrition, and safety.
Refer patients to pediatric specialists when necessary.
Advocate for the health and well-being of pediatric patients.
Salary
PNPs can expect variations in salary based on factors such as experience, location, employer, and healthcare setting. According to a Glassdoor report from September 2022, the salary range for PNPs is as follows:
Low: $97,000
Median:  $146,577
High: $224,000
Neonatal NP (NNP)
NNPs are dedicated professionals who specialize in providing exceptional healthcare to newborns. They work in various settings, including neonatal intensive care units (NICUs), emergency rooms, delivery rooms, and outpatient developmental clinics. With comprehensive training, NNPs are equipped to manage the unique medical needs of premature infants and critically ill newborns. Their expertise enables them to provide exceptional care to these vulnerable patients and ensure their health and well-being.
Responsibilities
Conduct comprehensive assessments of newborns, including physical examinations and medical histories.
Diagnose and manage common neonatal conditions, such as respiratory distress syndrome, jaundice, and infections.
Provide specialized care for premature infants and critically ill newborns in NICUs.
Collaborate with a multidisciplinary team of healthcare professionals to develop and implement individualized care plans.
Monitor the progress and growth of newborns, including developmental milestones.
Provide support and education to parents and families of newborns, including counseling on breastfeeding, newborn care, and safe sleep practices.
Assist in emergencies, such as resuscitation efforts during high-risk deliveries.
Participate in the management of neonatal emergencies in the emergency room setting.
Provide follow-up care and developmental assessments for infants in outpatient developmental clinics.
Salary
NNPs can expect their salary to vary depending on their experience, geographic location, and employer. According to the September 2022 Glassdoor report, NNPs earn an annual salary of:
Low $82,000 
Median $122,047
High $182,000
Acute Care NP (ACNP)
ACNPs possess extensive knowledge and skills in providing exceptional nursing care to patients in critical condition requiring comprehensive treatment in acute care settings such as hospitals, emergency departments, and intensive care units (ICUs). With specialized education and training, ACNPs are well-equipped to handle and oversee the complex needs of patients with acute and severe illnesses. ACNPs have the flexibility to specialize in various patient populations, ranging from neonates to geriatrics, ensuring comprehensive care across a wide range of age groups.
Responsibilities
Perform comprehensive patient assessments, including physical examinations and interpretation of diagnostic tests.
Diagnose and manage acute and chronic conditions, such as cardiac disorders, respiratory diseases, and post-surgical complications.
Order and interpret diagnostic tests, such as laboratory tests and imaging studies. 
Prescribe medications, treatments, and therapies.
Coordinate and manage the care of acutely ill patients.
Collaborate with the healthcare team to develop individualized care plans.
Perform invasive procedures, such as central line placement and chest tube management.
Monitor and manage critically ill patients, including emergency interventions and resuscitation efforts.
Educate patients and their families on disease management, treatment plans, and self-care strategies.
Salary
As with any NP position, the salary ACNPs varies based on experience, region, and healthcare setting. Per the Glassdoor September 2022 report, ACNPs make an annual salary of:
Low: $96,000
Median: $141,951
High: $212,000
Aesthetic NP
Aesthetic NPs possess in-depth knowledge and expertise in a wide range of cosmetic and aesthetic treatments specifically designed to enhance the appearance and well-being of their patients. These highly skilled professionals can work in various settings, including medical spas, dermatology clinics, and plastic surgery practices, where they employ their specialized skills to help people achieve their desired look and feel their best.
Responsibilities
Conduct thorough assessments of patients, including evaluating their aesthetic concerns, medical history, and skin condition.
Provide non-surgical cosmetic treatments, such as Botox injections, dermal fillers, chemical peels, and laser treatments.
Perform cosmetic procedures, including facial rejuvenation, skin resurfacing, and body contouring.
Offer skincare consultations and develop personalized treatment plans for patients.
Educate patients on aesthetic procedures' benefits, risks, and potential outcomes.
Administer local anesthesia or analgesics as needed during procedures.
Follow strict infection control protocols and maintain a sterile environment during treatments.
Stay updated on the latest advancements and trends in aesthetic medicine through continuing education and professional development.
Collaborate with other healthcare professionals, such as dermatologists and plastic surgeons, for comprehensive patient care.
Salary
The salary of Aesthetic NPs can vary depending on factors such as experience, the healthcare setting they work in, and their geographical location. Glassdoor reports a range of annual salaries for Aesthetic NPs as follows:
Low: $90,000
Median: $139,921
High: $218,000
Best NP Jobs FAQs
Q: What other specialty options are offered to NPs?
A: Some additional NP specialties include Women's Health NP, Adult-Gerontology NP, Oncology NP, Hospice NP, Orthopedic NP, Gastroenterology NP, and Palliative Care NP. 
Additionally, there are specialties such as Endocrinology NP, Nephrology NP, Urology NP, Pulmonary NP, Infectious Disease NP, Rheumatology NP, Neurology NP, and Cardiology NP.
---
Related: 10 Best MSN Programs in 2023
---
Q: Should I get my MSN or DNP to become an NP?
A: Traditionally, a Master of Science in Nursing (MSN) degree has been the standard for NP programs. But, in recent years, some nursing programs have shifted toward offering the Doctor of Nursing Practice (DNP) as the entry-level degree for NPs. Both degrees can lead to becoming an NP, but the DNP provides additional education and prepares NPs for leadership and advanced practice roles. It is essential to research the requirements and preferences of the specific programs and institutions you are interested in to decide which degree to pursue.