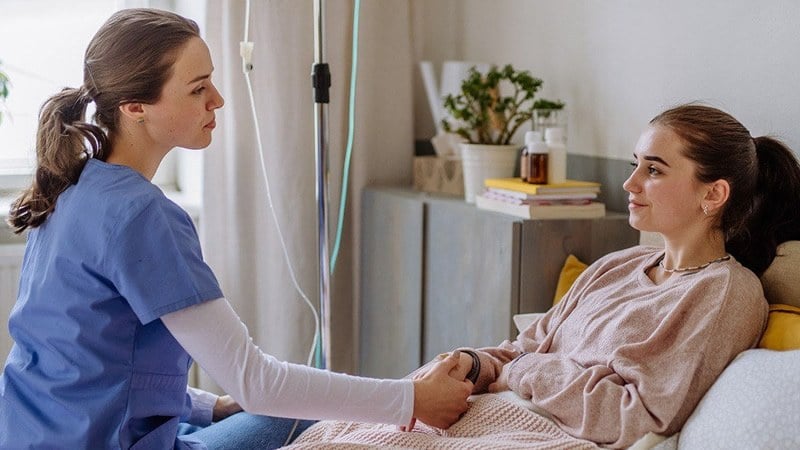 Whether you're a nursing student considering a specialty, a registered nurse (RN) looking to shift into mental health care, or simply curious about the profession, we've compiled everything you need to know about the rewarding field of psychiatric nursing.
Psychiatric Nurse Job Description
A psychiatric nurse, or mental health nurse, specializes in providing care and support to individuals with mental health disorders. These nurses work closely with patients experiencing various psychiatric conditions, developmental disabilities, and substance use or addiction issues. They work with interdisciplinary healthcare teams to treat a patient's mental illness and also provide physical and emotional care and support, as all these dimensions of being make up the entire individual patient. 
---
Related: 10 Best RN to BSN Programs in 2023
---
Work Settings
Psychiatric nurses can work in various healthcare settings, including:
Psychiatric Hospitals
General Hospitals
Outpatient Clinics
Community Mental Health Centers
Residential Treatment Centers
Correctional Facilities
Schools and Universities
Private Practice
Home Health Care
Telehealth.
The best fit for a psychiatric nurse will depend on their skills, interests, and career goals.
Psychiatric Nurse Responsibilities
The specific scope of practice and responsibilities of psychiatric nurses may vary depending on their level of education, specialization, training, and the regulations set by each province or territory's nursing regulatory body. 
Some of the most common responsibilities include:
Patient Assessment: Conduct initial assessments to determine mental health needs and establish a nursing diagnosis. This includes evaluating patients' mental health status and conditions based on medical history, symptoms, and behavioral observations.
Treatment Planning: Develop individualized care plans with a multidisciplinary team, including psychiatrists, psychologists, social workers, and other healthcare professionals.
Medication Management: Administer medications as prescribed by the psychiatrist and monitor patients for side effects and responses to these medications.
Therapeutic Care: Provide restorative care to patients, including individual and group therapy sessions. This may involve various therapeutic techniques, such as cognitive-behavioral therapy (CBT), dialectical behavior therapy (DBT), or other modalities.
Patient Education: Educate patients and their families about mental health conditions and treatment plans, including coping strategies, self-care techniques, and medication compliance.
Crisis Intervention: Respond to crises, using de-escalation techniques to manage behavioral emergencies and ensure patient safety.
Documentation: Maintain accurate and detailed patient records.
Other responsibilities of psychiatric nurses include staying updated on the latest developments in their field through continuing education and professional development opportunities.
Psychiatric Nurse Salary
The salary of a psychiatric nurse can vary depending on several factors, including geography, years of experience, level of education, specialization, and the specific employer.
As per the Bureau of Labor Statistics (BLS), the national estimate for the mean annual wage of RNs is $89,010. However, the BLS does not specify precisely for psychiatric nurses. According to Indeed, psychiatric nurses make a yearly average base salary of $128,082, or $60.52 per hour.
---
Related: Best RN Jobs and Salaries in 2023
---
The highest-paying cities for psychiatric nurses in the U.S. are:
New York, NY: $80.69 per hour
Detroit, MI: $63.71 per hour
Conroe, TX: $51.73 per hour
Phoenix, AZ: $49.92 per hour
Chattanooga, TN: $47.37 per hour
How to Become a Psychiatric Nurse
Psychiatric nurses are typically RNs with additional training and certification in mental health services. It's important to note that the specific requirements and processes may vary slightly between states. Therefore, contacting the nursing regulatory body in your desired location is advisable for detailed information on the licensure, certification, and registration process for psychiatric nursing.
For a general pathway, here are five steps to becoming a psychiatric nurse:
Earn a Nursing Degree: This can be an Associate Degree in Nursing (ADN) or a Bachelor of Science in Nursing (BSN). A BSN is often preferred and may offer more job opportunities.
Pass the NCLEX-RN Exam: After earning a nursing degree, you must pass the NCLEX-RN to become an RN.
Gain Experience: After becoming an RN, you should gain experience in psychiatric nursing. This could involve working in a mental health facility, a psychiatric unit in a hospital, or another setting that provides mental health services.
Get Additional Certification: Many psychiatric nurses choose to become certified psychiatric-mental health nurses (PMHNs). This certification is offered by the American Nurses Credentialing Center (ANCC). It requires at least two years of practice as an RN, 2,000 hours of clinical practice in psychiatric nursing within the last three years, and 30 hours of continuing education in psychiatric nursing within the previous three years.
Consider Advanced Practice: If you're interested in advanced practice roles, such as becoming a psychiatric-mental health nurse practitioner (PMHNP), you'll need to earn a Master's of Science in Nursing (MSN) or a Doctor of Nursing Practice (DNP).
In the complex world of healthcare, psychiatric nurses play a critical role in caring for patients with mental health disorders, making it a desirable career for many.