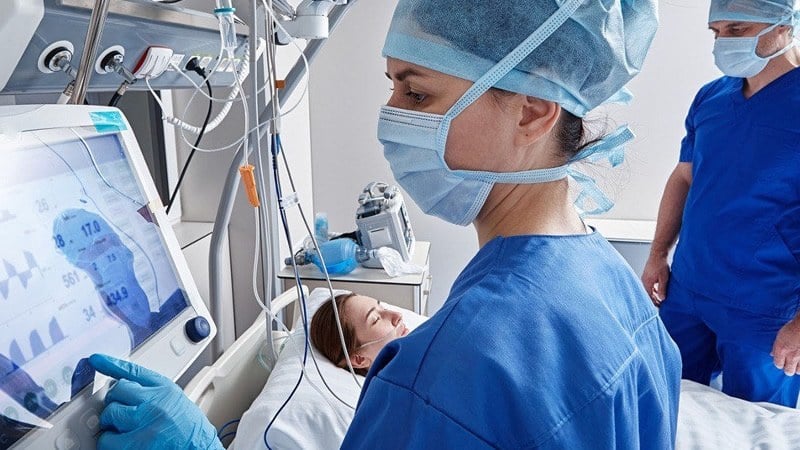 Immerse yourself in the dynamic world of telemetry nursing and explore the pivotal role these healthcare professionals play in providing care to patients with acute medical needs.
Whether you're a student or registered nurse (RN) considering a career in telemetry, we've compiled everything you need to know about the job description, responsibilities, work settings, salary, and education required to embark on this challenging but rewarding path. 
Telemetry Nurse Job Description
Telemetry is a specialized area of healthcare that involves the continuous monitoring and interpretation of a patient's vital signs, such as heart rate, heart rhythm, respiratory rate, blood pressure, and oxygen saturation level. Continuous monitoring of patients enables healthcare professionals to gather real-time data to make informed decisions regarding patient care, ensuring early detection of abnormalities or changes in the patient's condition.
Telemetry, or tele nurses, are RNs who specialize in providing continuous monitoring and care for patients with acute medical conditions. You will find tele nurses working in different hospital units, and these nurses play a critical role in monitoring, interpreting, and responding to patients' abnormal vital signs. By closely evaluating changes in a patient's cardiac monitor or vital signs, telemetry nurses detect abnormalities or deterioration in the patient's condition early. Proactively maintaining patient stability, preventing health decline, responding to medical emergencies, and providing essential care are all fundamental aspects of a telemetry nurse's job.
Patients admitted to telemetry units usually have conditions that could lead to rapid deterioration. These patients require more monitoring than those on a med-surg unit but less than those in an intensive care unit, making the telemetry unit an intermediary between the two. 
Telemetry nurses are responsible for caring for patients with various medical conditions, including heart failure, cardiovascular disease, neurological problems, kidney disease, severe infection, or traumatic injury. In addition, patients who have undergone a procedure or surgery requiring anesthesia may also need to be monitored on a telemetry unit overnight before discharge. Hospital telemetry units can be generalized, with a mix of different patients, or specialized, like a cardiovascular progressive care unit.
---
Related: Best RN Jobs and Salaries in 2023
---
Telemetry nurses mainly work in the following hospital units:
Immediate care
Direct observation
Stepdown (PCU)
Telemetry
Transitional care
Long-term acute care hospitals
While other specialties, like ICU RNs, PACU RNs, ER/ED RNs, and Procedural RNs, are not officially considered telemetry nurses, they also care for patients on telemetry monitoring in their respective areas. Telemetry nurses can work with any patient population requiring telemetry monitoring, from neonatal, pediatric, and adult patients. 
Becoming a telemetry nurse offers numerous benefits, including gaining valuable experience, especially for those aspiring to work in intensive care units (ICUs) or emergency rooms (ERs). Telemetry nursing provides a solid foundation for critical care or emergency care settings, as it exposes nurses to various patients and health issues. It is a fast-paced and intellectually stimulating environment that suits nurses who excel in critical thinking and thrive in making a difference.
Telemetry Nurse Responsibilities
Telemetry nurses share similar duties and responsibilities with staff nurses in their specified specialty, including:
Patient care
Patient assessment
Monitor vital signs
Administer medications
Evaluate patients for changes in condition
Educate patients and families
Communicate effectively with patients, families, and the healthcare team
Problem-solve
Document nursing assessments and interventions
Collaborate with the healthcare team
In addition to core nursing responsibilities, telemetry nurses have additional duties, which include:
Monitor and interpret electrocardiogram (ECG)
Identify and manage cardiac arrhythmias
Respond appropriately to acute and rapid patient decline
Administer IV cardiac medications or other medications requiring telemetry monitoring after administration
Care for and manage patients on non-invasive ventilation
Nurses on a telemetry unit need to monitor patients more frequently due to their higher acuity. The scope and role of a telemetry nurse can vary depending on the specialty unit, facility policies, and nursing experience.
Telemetry Nurse Salary
The Bureau of Labor Statistics (BLS) reported that in May 2021, the average salary for RNs was $77,600. 
As of April 2023, a report by Zippia states that the average annual salary for RNs is now $73,349, while telemetry nurses can expect an average salary of $91,416. 
Zippia's April 2023 report highlights that pay for telemetry nurses will vary depending on the state, with some offering higher compensation and others offering lower.
5 Highest Telemetry RN Pay by State 2023:
New York: $124,401
District of Columbia: $113,387
California: $108,071
Hawaii: $101,836
Pennsylvania: $101,444
5 Lowest Telemetry RN Pay by State 2023:
Iowa: $60,856
Oklahoma: $63,423
Indiana: $64,025
South Carolina: $65,023
North Dakota: $65,168
Telemetry nurses with experience can have higher earning potential. According to Zippia's April 2023 report, entry-level telemetry RNs earn an average annual wage of $48,000, while the top 10% of telemetry nurses earn $123,000 annually.
It's important to note that salaries for telemetry nurses can vary based on factors such as facility, specialty, region, and certifications—and the reasons for the wage gap, whether attributed to experience, specialty, region, or a combination of factors, is not disclosed. 
How to Become a Telemetry Nurse
Becoming a telemetry nurse can be achieved through three straightforward steps:
Step 1: Nursing School
To become a tele nurse, enroll in and successfully complete an undergraduate nursing program to earn your nursing degree.
Aspiring telemetry nurses are eligible for positions with either an Associate Degree in Nursing (ADN) or a Bachelor of Science in Nursing (BSN). While both degrees qualify nurses for a telemetry nursing career, individuals with bachelor's degrees may be more likely to be considered and secure a telemetry position. However, it's important to note that this can vary based on the region and healthcare facility.
Step 2: Obtain RN License
Upon graduating from nursing school, you must pass the National Council Licensure Examination for Registered Nurses (NCLEX-RN) to receive your nursing license.
---
Related: 10 Best BSN Programs in 2023
---
Step 3: Apply for a Telemetry Nurse Position
Now that you have your RN license, it's time to apply for telemetry nurse positions. As a new graduate RN, you can apply for telemetry positions directly. Nevertheless, if you cannot secure a telemetry role as a new graduate, gaining 1-2 years of experience on a medical-surgical floor and reapplying enhance your chances of success.
Step 4: Master Telemetry Nursing
As you gain experience and feel confident in your role as a telemetry nurse, consider pursuing further specialization through certification. Depending on the setting you work as a telemetry nurse, you can pursue the following certifications:
Certifications in your nursing specialty demonstrate your expertise and commitment to delivering exceptional care in the telemetry and progressive care setting.
Telemetry nursing presents an exciting opportunity for healthcare professionals to make a meaningful impact on patients with acute medical conditions. By closely monitoring vital signs and providing essential care, telemetry nurses play a vital role in ensuring patient stability and well-being, making it a rewarding career choice for those who thrive in a fast-paced and challenging environment.