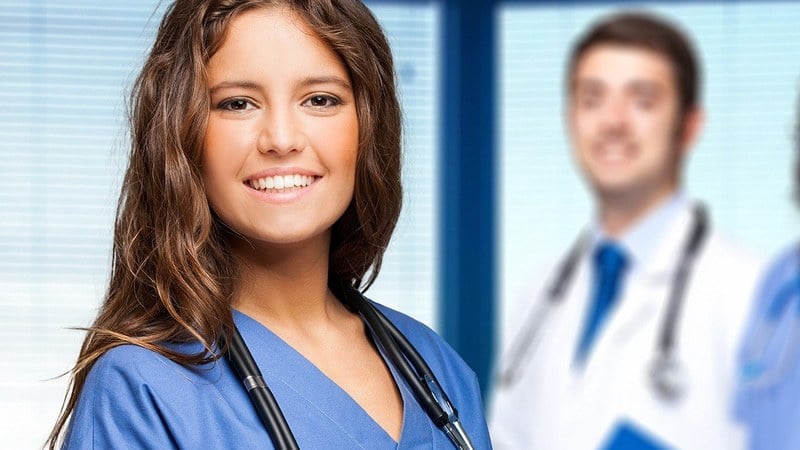 Are you a registered nurse (RN) looking to advance your nursing career by earning a bachelor's degree? Enrolling in an RN to BSN bridge program can boost career advancement opportunities and increase earning potential. A Bachelor of Science in Nursing can help you land jobs in leadership, research, and other specialties to broaden your career opportunities and change the trajectory of your nursing career.
Finding the right nursing program can be challenging. You may wonder if you should look for nursing programs with excellent NCLEX pass rates, method of curriculum delivery, how long it takes to complete, or another feature of the school. Unfortunately, choosing a nursing program isn't a one-size-fits-all endeavor.
You must weigh each program's pros and cons to determine which fits your needs and goals best. While this might sound like a lot of work, don't worry. We have you covered with our nursing program rankings.
What Is an RN to BSN Program?
RN to BSN bridge programs provide a fast-track way for RNs with an associate's degree or diploma to earn a bachelor's degree. Working nurses might look for online, full-time, part-time, and accelerated RN degree programs to easily balance work, home, and school life.
These specialized programs offer credits for previous nursing coursework and work experience. Most programs can be completed in two years or less. However, it's essential to point out that registered nurses with a diploma need more credits than those with an associate's degree in nursing.
As a BSN nursing student, you'll expand your knowledge by completing evidence-based practice courses in informatics, leadership, and nursing theory. You'll learn more about critical thinking and how to apply your expertise in the clinical setting. Because BSN-prepared nurses can hold leadership positions and other non-clinical roles, you'll spend much time learning how to use your new knowledge in these settings.
RN to BSN Program Prerequisites and Requirements
RN completion programs have specific admission requirements. These prerequisites and requirements vary by nursing school. However, there are standard enrollment criteria, which include:
Proof of an active and unencumbered RN license
Proof of completion of an ADN or diploma nursing program
Proof of a specific number of years or practice hours as an RN
Personal statement explaining why you want to advance your career
Remote or in-person interview with nursing faculty
Prerequisite coursework in anatomy, physiology, Microbiology, or statistics
Proof of a GPA of 2.0 or higher for all previous college classes
Passing a criminal background check, including fingerprints
Submitting a physical exam, drug screening, and immunization records
Salary Expectations of an RN-BSN in 2024
According to the U.S. Bureau of Labor Statistics (BLS), RNs earn an average annual salary of $89,010 or just over $42 per hour. It's essential to note that BLS does not differentiate between RNs with an associate's or bachelor's degree. So, actual wages will vary.
Other factors affecting wages include geographic location, with the top-paying states being:
California: $133,340
Hawaii: $113,220
Oregon: $106,610
Massachusetts: $104,150
Alaska: $103,310
Additional factors include years of experience and nursing specialty. Many hospitals and healthcare systems offer higher salaries for RNs with a Bachelor's degree. So, completing a BSN degree program has the potential to increase your salary as well as your career prospects.
Best RN to BSN Programs
We've ranked the best, fastest, and cheapest online RN to BSN programs for you with our robust methodology. We consider our reader's wants and needs, as well as the following factors and features:
Tuition: We evaluate overall tuition rates and cost per credit hour to find the programs that have the best return on your investment.
Method of Delivery: This explores how the curriculum is delivered, including if it's in-person, online, or hybrid/blended.
Admission rates: The number of nursing students admitted compared to how many prospective students apply to the program.
Graduation rates: The number of nursing students who graduate in each class compared to how many started the program and didn't.
NCLEX-RN pass rates: The number of graduates who passed the NCLEX-RN on the first attempt.
Time it takes to complete: The average amount of time it takes for a nursing student to complete the full program.
Student-to-faculty ratio: The number of nursing faculty present for each nursing student. The smaller the student-to-faculty ratio, the more likely you'll receive individualized education and support during your nursing program.
You can complete your degree in just six terms or about 14 months. Each term lasts five weeks, so you'll complete nursing courses quickly, which can help you feel a sense of accomplishment. You'll complete didactic nursing coursework online and clinical practicum hours at healthcare facilities in your community.
Ohio University in Athens is known as one of the country's most affordable online RN to BSN programs. Their nursing students spend only around $10,000 on their nursing education. To qualify for this program, you must hold an active, unencumbered nursing license and an ADN or diploma in nursing. OU also has state residency requirements, so check the website for more details about where you must live to qualify for this top RN to BSN program.
This university is authorized to operate by the Illinois Board of Higher Education and is accredited by the Higher Learning Commission. Students complete all didactic coursework online. All required clinical experiences are conducted locally, but the College of Nursing assists in finding opportunities close to home, so you don't have to do this alone.
According to Data USA, WGU awards the most degrees in Registered Nursing in the U.S. Nursing students can obtain their BSN in just four terms.
WGU's pricing model is unique because students aren't charged by the credit hour. The university charges a flat tuition rate per term regardless of how many classes you take. So, if you're motivated, this can be a cost-effective way to complete an accelerated nursing program in a short time.
Coming in at number five of the 169 accredited Southeast Region RN to BSN programs is Morehead State University in Kentucky. This nursing program offers online courses for $385 per credit hour or just under $5000 per semester.
Fastest RN to BSN Programs
Most RN to BSN programs will take about two years to complete. However, if you want to complete a BSN online program faster, these accelerated bridge programs might be a good fit.
In just ten months, you can upskill and earn a BSN in nursing practice at NKU. With multiple start dates throughout the year, you can begin taking classes toward your BSN degree and quickly achieve your career advancement goals.
This online bachelor's program is known for its flexibility, a selling point for adult learners who are full-time or part-time nurses. The didactic portion of the BSN program coursework is offered online and can be completed in as little as 12 months. One unique feature of this program is that it requires no clinical experience, making it a lighter lift for working adults.
Do you wish your nursing curriculum translated well to your nursing practice? The Nicole Wertheim College of Nursing and Health Sciences offers classes relevant to your workplace, including courses about culturally competent patient care, nursing leadership, and community health nursing. This accelerated program comes with a price tag ranging from about $8,000 to $11,000 and can be completed in 12 months.
This college helps RNs advance their nursing education by offering an affordable, high-quality baccalaureate nursing program. They offer full-time and part-time options. You'll take 31 credit hours in upper-level nursing courses, such as health assessment, pathophysiology, nursing research, informatics, and classes on the economics of policies of healthcare systems.
In just 12 months, you can complete your BSN at Herzing University. This school boasts a curriculum created to help you succeed in professional nursing practice, experienced nursing faculty, and lifelong career advancement support.
Cheapest RN to BSN Programs
Sometimes, the most important thing about choosing a nursing school is the program cost. Below are the cheapest BSN completion programs. These programs are accredited, meaning they can accept state and federal financial aid if you receive it.
If this school sounds familiar, it's because it also topped our rankings as one of the fastest RN to BSN programs. So, at Florida Gateway College, you can complete a cost-conscious program in no time.
The University of North Carolina at Wilmington delivers an entirely online nursing program designed for working adults. It's accredited by the Commission of Collegiate Nursing Education (CCNE). The total cost of this program runs just over $6000.
Not only is the RN to BSN program at Roseman affordable, with a total cost of $8,000, but it's designed to help nursing students master the nursing curriculum by taking just one class at a time. The program is fully online and can be completed in nine months.
Online students complete 60 clock hours in this BSN bridge program with a possible nursing leadership clinical practicum required. The school has Commission on Collegiate Nursing Education (CCNE) accreditation; full tuition is just under $9000.
UTA offers multiple start dates and a pay-by-the-course pricing model, making this an affordable and flexible program for RNs seeking to continue their nursing education. Classes include nursing management and leadership and community and public health.
FAQ and Additional Reading
Read More About Each Program...
Choosing an RN-BSN program can be challenging, and you might have many questions. So, we've rounded up some of the most common questions nurses have about BSN nursing programs, so you don't have to search for the answers.
Check out our FAQs below.
Q: How do I choose an RN to BSN program?
A: Choosing a nursing school and a BSN program is personal. You must explore many programs and determine what's most important to you. As you explore your options, create a pros and cons list so you can visually see what schools meet or exceed your needs.
Q: Can I complete an RN to BSN program entirely online?
A: Most RN to BSN programs don't require nursing students to attend in-person classes because you're already an RN. However, depending on the school's focus, some programs might require students to participate in in-person labs or clinicals. Ask about in-person requirements when exploring different RN to BSN programs.
Q: How many transfer credits will I get toward my bachelor's degree from my associate degree program?
A: Every nursing program determines this individually. Check with the admissions department to better understand how many transfer credits you'll receive from your ADN program.
Q: Is getting my BSN worth it?
A: This is a common question. Unfortunately, only you can determine if the time and cost of a BSN completion program is worth it. To help you resolve this, we suggest creating a pros and cons list for returning to school. You should also consider what jobs you'd like to try that wouldn't be open to you if you didn't have a BSN.
Q: Can I complete my BSN at a community college?
A: BSN completion programs are most often offered by universities. However, some community and technical colleges offer RN to BSN programs too.