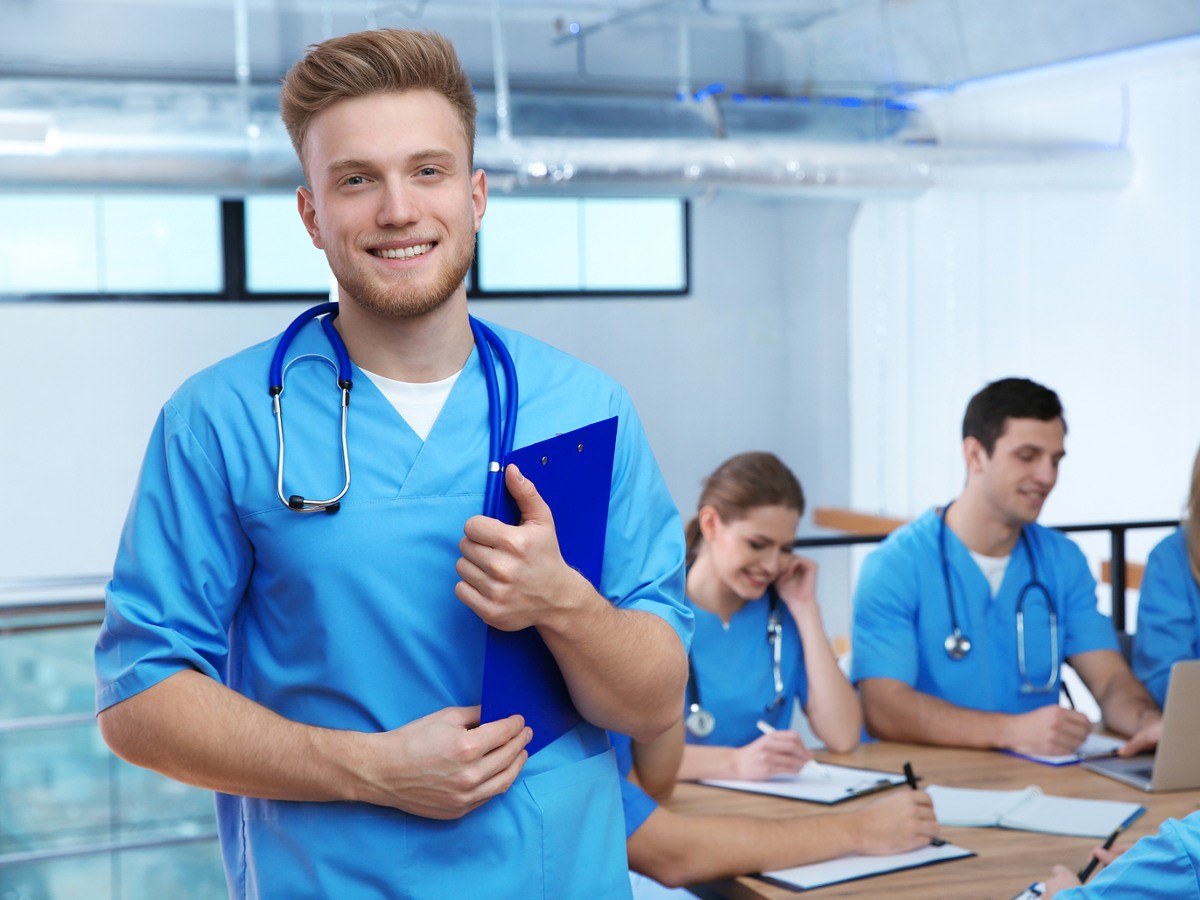 Kansas City, Missouri, offers a bustling and vibrant backdrop for those embarking on a nursing journey.
This thriving city boasts a robust healthcare network, diverse educational opportunities, and cultural richness, making it an ideal destination for aspiring healthcare professionals. Within this dynamic landscape, nursing schools are pivotal in shaping compassionate and skilled nurses prepared to excel in the ever-evolving healthcare field.
Whether you're seeking an Associate Degree in Nursing (ADN), a Bachelor of Science in Nursing (BSN), or an advanced practice degree, Kansas City has a school that's right for you.
Nursing Schools in Kansas City, MO
Avila University offers nursing programs emphasizing a holistic approach to patient care and a commitment to social justice. The university's nursing curriculum combines theoretical knowledge with hands-on clinical experiences, preparing students to excel in healthcare.
Metropolitan Community College provides a range of nursing programs designed to prepare students for various roles in healthcare. The college's nursing curriculum emphasizes practical skills and evidence-based practice, ensuring graduates are well-prepared for real-world patient care. Metropolitan Community College's dedicated faculty and supportive learning environment contribute to successful nursing education.
Research College of Nursing is known for its commitment to excellence in nursing education and patient care. The college offers nursing programs that blend academic rigor with hands-on clinical training. Through partnerships with healthcare institutions, students at Research College of Nursing gain valuable experience and develop the skills needed to provide high-quality healthcare services.
BSN
Accelerated BSN
RN to BSN
Saint Luke's College of Health Sciences focuses on preparing skilled, compassionate, and adaptable nursing professionals. The college offers nursing programs that integrate clinical experiences with advanced theoretical learning. With access to clinical resources within the renowned Saint Luke's Health System, nursing students develop the expertise needed to excel in healthcare settings.
BSN
Accelerated BSN
RN to BSN
MSN Programs

Family Nurse Practitioner
Adult-Gerontology Acute Care Nurse Practitioner
Psychiatric-Mental Health Nurse Practitioner
Nursing Leadership
FNP/AGACNP Dual Track

Graduate Certificates
The University of Missouri-Kansas City's nursing programs are recognized for their comprehensive curriculum and commitment to research-based practice. The university offers a variety of nursing pathways, from traditional BSN programs to advanced practice options. With access to cutting-edge facilities and experienced faculty, nursing students at UMKC gain the knowledge and skills necessary for impactful careers in healthcare.
BSN
Accelerated BSN
RN to BSN
MSN Programs

Pediatric Nurse Practitioner
Acute Care Pediatric Nurse Practitioner
Family Nurse Practitioner
Women's Health Nurse Practitioner
Neonatal Nurse Practitioner
Nurse Educator
Psychiatric-Mental Health Nurse Practitioner
Adult-Gerontology Nurse Practitioner

DNP
Ph.D.
Graduate Certificates

Pediatric Nurse Practitioner
Acute Care Pediatric Nurse Practitioner
Family Nurse Practitioner
Women's Health Nurse Practitioner
Neonatal Nurse Practitioner
Nurse Educator
Psychiatric-Mental Health Nurse Practitioner
Nursing Program Types in Kansas City, M)
Many different types of nursing degrees, certificates, and diplomas are available. However, the most common programs obtained by nursing professionals include:
Studying Nursing in Kansas City, MO
Located at the heart of the United States, Kansas City is known for its vibrant culture, strong healthcare network, and diverse educational opportunities. Here's what to expect:
Diverse Nursing Schools: Kansas City is home to various reputable nursing schools and colleges that offer a range of nursing programs to cater to different career goals and educational backgrounds. Whether you're interested in practical nursing (LPN) or pursuing advanced nursing degrees, options are available to suit your aspirations.
Robust Healthcare Community: Kansas City boasts a robust healthcare community with renowned hospitals, medical centers, and healthcare facilities. Nursing students can gain hands-on clinical experience in these institutions, working alongside experienced healthcare professionals and applying classroom knowledge to real patient care scenarios.
Cutting-Edge Facilities: Many nursing schools in Kansas City are equipped with state-of-the-art simulation labs and modern facilities. These resources allow students to practice complex medical scenarios in a controlled environment, enhancing their clinical skills and building confidence.
Interdisciplinary Collaboration: Nursing education in Kansas City often emphasizes interdisciplinary collaboration. Students may have opportunities to collaborate with professionals from other healthcare fields, such as physicians, pharmacists, and social workers. This collaborative approach fosters teamwork and a holistic understanding of patient care.
Cultural Diversity: Kansas City's population is diverse, allowing nursing students to interact with patients from various cultural backgrounds. This exposure enhances cultural competency and the ability to provide patient-centered care that respects individual beliefs and values.
Research Opportunities: Many nursing schools in Kansas City engage in research projects, providing students with opportunities to contribute to advancements in nursing practice. Engaging in research nurtures critical thinking skills and keeps students informed about the latest developments in the field.
Supportive Learning Environment: Nursing schools in Kansas City typically offer a supportive and nurturing learning environment. Faculty members are experienced professionals who provide guidance, mentorship, and academic support to ensure students' success.
Lifestyle and Leisure: Beyond academics, Kansas City offers a wide range of recreational, cultural, and entertainment activities. Students can explore museums, parks, restaurants, and the city's unique neighborhoods during their free time.
Career Opportunities: Kansas City's healthcare sector is thriving, creating a favorable job market for nursing graduates. The city's well-established medical institutions and healthcare organizations often seek skilled nurses to provide high-quality care to the community.
Networking Opportunities: Kansas City's healthcare community hosts various events, seminars, and conferences that provide networking opportunities for nursing students. These activities allow students to connect with healthcare professionals, mentors, and potential employers.
Quality Education: Nursing schools in Kansas City are known for providing quality education that equips students with the knowledge and skills needed for a successful nursing career. Faculty members are dedicated educators passionate about guiding the next generation of nurses.
Kansas City's thriving healthcare community, diverse program options, and promising job prospects make it an excellent destination for aspiring nurses to pursue their educational and professional goals.
Frequently Asked Questions (FAQ)
What is the NCLEX-RN, and why is it important?
The NCLEX-RN (National Council Licensure Examination for Registered Nurses) is a standardized exam that aspiring RNs must pass to obtain a nursing license. It assesses the knowledge, skills, and abilities necessary for safe and effective entry-level nursing practice. Passing the NCLEX-RN is a crucial step in becoming a licensed RN and is required for practicing nursing in most states.
Can I specialize in a specific area of nursing?
Yes, nursing offers a wide range of specialties you can pursue after becoming a licensed RN. Some common nursing specialties include pediatric nursing, critical care nursing, psychiatric nursing, oncology nursing, and more. Specializing often requires additional education, certification, and clinical experience in the chosen area. Advanced practice roles like nurse practitioners, nurse anesthetists, and nurse midwives offer specialized career paths requiring further education and certification.