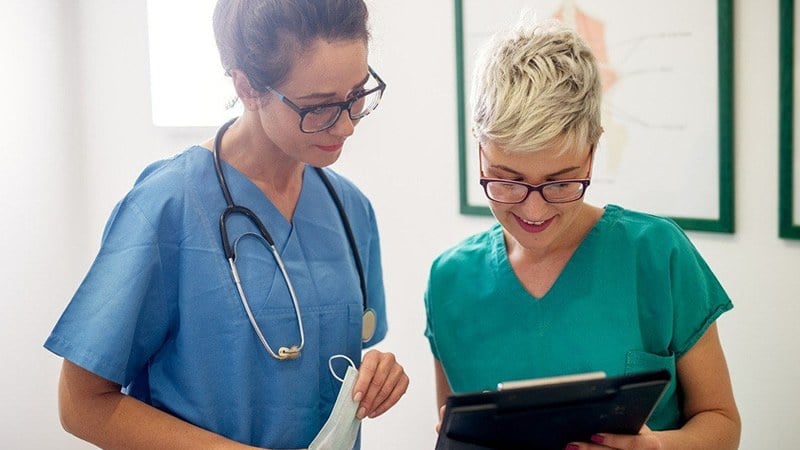 From the high-stakes world of emergency room nursing to the compassionate care of geriatric nursing, we've compiled details about the unique responsibilities, qualifications, and pay ranges of 14 different nursing specialties.
The Bureau of Labor Statistics (BLS) reports that RNs make an average annual salary of $77,600 or just over $37 per hour. This data is a base salary and changes based on experience, geography, and many other factors.
When reviewing salary information for each nursing specialty below, remember that data from sites like PayScale or Glassdoor use self-reported information from nurses with varying degrees and years of experience who live coast to coast in the U.S.
Emergency Room Nurse
Do you want a fast-paced, high-skill acute care nursing job that is never the same two days in a row? This is the reality of emergency room nursing.
These nurses triage patients needing acute care due to exacerbating chronic diseases or acute life-threatening conditions and injuries. They use critical thinking and problem-solving skills and enjoy the fast turnover of patients.
Emergency Room Nurse Pathway
To work in the ER, you must be an RN with an associate's or bachelor's degree. As you gain experience in this nursing specialty, you might consider further specializing your skills by becoming a Certified Emergency Nurse.
Emergency Room Nurse Salary
According to Glassdoor, which uses self-reported salary ranges for different positions, emergency room nurses make an average annual salary of $120,466.
Oncology Nurse
Oncology nurses work in hospitals or doctor's offices caring for cancer patients. They can provide patient care from pediatrics to geriatrics along the life spectrum. They administer medications, including chemotherapy, and teach patients and their caregivers how to manage disease symptoms at home.
Oncology nursing is a challenging but rewarding specialty. Successful oncology nurses are empathetic, compassionate and know how to set healthy boundaries between home and work.
---
Related: Best RN Jobs and Salaries in 2023
---
Oncology Nurse Pathway
You must have an associate degree RN at a minimum to be an oncology nurse. Oncology nurses can specialize by obtaining a certification, such as the Oncology Certified Nurse (OCN) offered by the Oncology Nursing Certification Corporation.
Oncology Nurse Salary
Glassdoor reports that oncology nurses make an average annual salary of $114,136.
Cardiac Nurse
Working in heart health is a critical and rewarding nursing specialty. These nursing professionals treat patients with acute and chronic heart conditions and work in outpatient or inpatient settings. They can specialize further by working in a cardiac intensive care unit or a diagnostic environment, such as the cardiac catheter lab.
Cardiac Nurse Pathway
You'll need an ADN or BSN to work in cardiac care. You can further specialize by obtaining any of the following: 
Cardiac Nurse Salary
Glassdoor reports that cardiac nurses make an average of $105,835 per year.
Surgical Nurse
Surgical nurses work in operating rooms and suites in hospitals and free-standing surgical centers. They prep patients for surgical procedures, assist with surgeries, and care for patients after operations. Many surgical nurses specialize in a specific specialty, such as cardiac, orthopedics, or gynecology.
Surgical Nurse Pathway
After obtaining an ADN or BSN and passing the NCLEX-RN, you might be able to go directly into a surgical nurse position. However, some facilities want nurses to have at least two years of experience in medical-surgical nursing before working in the OR.
Surgical Nurse Salary
PayScale reports that surgical nurses make an average of $35.44 per hour or just over $65,000 annually.
Critical Care/ICU Nurse
Critical care nurses provide primary care to vulnerable patients in the ICU. Some even work in specialized units, like the surgical or cardiac ICU. They collaborate with other healthcare team members, administer medication, and observe patients for respiratory, cardiac, or renal status changes. ICU nurses must know the most cutting-edge treatment plans and equipment available to stay current with best practices.
Critical Care/ICU Nurse Pathway
Many critical care nursing jobs require a minimum of two years of general nursing experience. However, you might be able to find a hospital that offers an ICU nurse residency program that allows new nursing grads. Once you have ICU experience, you may want to explore a certification offered by the American Association of Critical Care Nurses to further specialize in providing direct care to critically ill patients.
Critical Care/ICU Nurse Salary
According to PayScale, ICU nurses make around $75,000 per year. However, Glassdoor reports that nurses in the ICU make an average annual salary of $114,675.
Pediatric Nurse
It takes a special person to devote their nursing practice to working with children and their families. Pediatric nurses work with young patients, from infants to adolescents or young adults. They provide primary care services like performing assessments, administering medications, and collaborating with other healthcare professionals during routine nursing care.
While pediatric refers to all patients under 18, these nurses can specialize more by working primarily with critically ill newborns in the neonatal intensive care unit (NICU) or in units like oncology, orthopedics, or surgery, but still only working with pediatric patients.
Pediatric Nurse Pathway
Working in pediatrics often requires a bachelor of science in nursing degree. However, some institutions hire nurses who completed an ADN nursing program. Because pediatrics is highly specialized, obtaining a pediatric nursing certification (PED-BC) or certified pediatric nurse (CPN) is beneficial. If you work as a neonatal nurse, you might consider getting the CCRN certification.
Pediatric Nurse Salary
According to ZipRecruiter, pediatric nurses make an average of $33 per hour or just over $68,185 annually.
Public Health/Community Health Nurse
Public health nurses often work for the government or large agencies analyzing data to make decisions about health trends. Community health nursing is a subset of public health focusing on providing care to a specific community or population.
Public Health/Community Health Nurse Pathway
RNs with an ADN or BSN can work in this specialty.
Public Health/Community Health Nurse Salary
According to self-reported data collected by PayScale, public health nurses make an average of $30.68 per hour or just over $69,000 annually.
Psych/Mental Health Nurse
Nurses focusing on mental health care are called psychiatric or mental health care nurses. They work in healthcare facilities, clinics, schools, or government agencies, creating care plans and providing counseling services that focus on helping those with mental health needs.
Psych/Mental Health Nurse Pathway
Mental health nurses may have associate's or baccalaureate degrees and must hold an RN license. They can further their education by obtaining the psychiatric-mental health nurse certification (PMH-BC) offered by the American Nurses Credentialing Center.
Psych/Mental Health Nurse Salary
Psychiatric nurses are in demand. PayScale reports that mental health nurses make $34.47 per hour or nearly $72,000 annually.
Nurse Case Manager
Case Managers work with patients and the healthcare team to create care plans that help manage chronic health conditions. They work in hospitals, other care facilities, doctor's offices, and clinics. Nurse case managers can also work remotely or in home health care. Case managers must be organized, empathetic, and have stellar written and verbal communication skills.
Case Manager Nurse Pathway
Many companies want case managers to have one to two years of primary care experience before entering the field. Nurses specializing in case management may go on to obtain their certified case manager credentials from the Commission for Case Manager Certification.
Case Manager Nurse Salary
PayScale reports that the average case manager makes $77,434 per year. This comes out to about $37 per hour.
Travel Nurse
Travel nurses provide primary care nursing services to patients in various hospitals and healthcare facilities. They can travel locally, regionally, or across the U.S. to facilities needing staffing assistance due to shortages, vacations, or strikes. Travel nurses must have stellar clinical skills, an adventurous spirit, and flexibility.
Travel Nurse Pathway
Most travel agencies require at least two years of clinical nursing experience before taking your first travel nurse assignment.
Travel Nurse Salary
According to Vivian, the average travel nurse's salary is just over $2000 per week but can range from $1786 to as high as $2757.
Long-term Care/Geriatric Nurse
Long-term care nurses work in senior care facilities ranging from assisted living to nursing homes and sub-acute care rehabilitation centers. They are often called geriatric nurses because most patients in these facilities are seniors.
Long-term care nurses must be empathetic, compassionate and understand senior adults' unique mental, social, and physical needs.
Long-term Care/Geriatric Nurse Pathway
Most long-term care facilities will hire new graduate nurses with little to no nursing experience other than what was obtained as a nursing student.
Long-term Care/Geriatric Nurse Salary
Glassdoor reports that the average salary for geriatric nurses is $129,090.
Obstetrics/Labor & Delivery Nurse
Obstetrics nurses work in labor and delivery units in hospitals, free-standing birthing centers, and women's health offices. They care for pregnant women, mothers delivering newborns, and postpartum care. They must possess quick critical thinking skills and excellent clinical competencies to work in this fast-paced environment where situations can quickly go from good to serious.
Obstetrics/Labor & Delivery Nurse Pathway
Once an RN, you should qualify to work in obstetrics or women's health. Consider the NCC credential in inpatient obstetric nursing (RNC-OB) to specialize further.
Obstetrics/Labor & Delivery Nurse Salary
The self-reported annual salary for obstetric nurses on PayScale is $65,400.
Nurse Administrator
Nurses who lead other nurses and oversee the care of a unit or facility often hold titles such as nurse leader, nurse manager, or nurse administrator. They are responsible for the daily operations of nursing services and complete everyday tasks like hiring staff, updating policies and procedures, and managing financial and revenue goals. Nurse administrators must be excellent leaders who motivate others toward comprehensive business goals.
Nurse Administrator Pathway
Most hospitals and healthcare institutions require nurse administrators to have a bachelor's degree. Others might require a master's degree in nursing, business, or healthcare administration.
Nurse Administrator Salary
BLS reports the annual salary of medical and health service managers as $101,340. The job outlook for these health professionals is currently at 28% job growth between now and 2031, faster than the average growth rate in the U.S.
Advanced Practice Registered Nurse (APRN)
APRNs are specialized nurses with advanced degrees who work in acute or primary care settings treating patients across the life spectrum. ARPN specialties include:
nurse practitioner (NP)
certified nurse midwife (CNM)
certified registered nurse anesthetist (CRNA)
clinical nurse specialist (CNS)
---
Related: FNP: Job Description, Salary, and How to Become One
---
These nursing professionals have an added layer of autonomy to provide medical care with or without the oversight of a provider, depending on the state of practice. While specialized in specific areas, APRNs have standard responsibilities like diagnosing and treating conditions, prescribing medications, treatments, and diagnostic testing and educating patients and their caregivers on disease management.
Advanced Practice Registered Nurse (APRN) Pathway
APRNs must first be fully licensed RNs with a BSN. They must obtain a Master of Science in Nursing (MSN) or a Doctor of Nursing Practice (DNP), which can take two to four years, depending on the program. After completing an APRN program, they must pass a national certification exam based on the specialty.
Advanced Practice Registered Nurse (APRN) Salary
The career outlook for APRNs is bright. According to BLS, more than 100,000 APRNs are needed between 2021-2031, which is a job growth of 40%. BLS reports that APRNs make an annual salary of $123,780 or just under $60 per hour.