About This Ebook ( 1.0.0 Edition)
1st Edition. 
Available in PDF and Doc format. Download one or both. 
317 Pages

There is a specialty for every Nurse. For many Nurses, specializing is not just a job … it is a life-long career. We realize choosing a Nursing specialty can be a daunting task and allnurses has made choosing a little easier.

Nurses work in a variety of specialty areas after graduation. Licensed Practical/Vocational Nurse (LPN/LVN), Registered Nurse (RN), and Advanced Practice Nurse (APN) may, after working in a certain area of nursing, decide to make that area a life-long career choice. After gaining more experience, they can become highly-qualified experts making a difference as confident leaders who elevate the Nursing profession. 

Education requirements? Salary ranges? We have it and more!! For example, you will find a detailed list addressing some of the concerns, expectations, and common questions when considering a specialty area:
Key Features
Skills and qualities and attributes necessary
Education required
Professional certifications available
Future opportunities
Current salary expectations
We also included some of the more popular and fastest-growing specialties:
Aesthetic / Plastic Surgery Nursing
Certified Registered Nurse Anesthetist
Forensic Nursing
Nursing Informatics
Psychiatric / Mental Health Nursing
School Nursing
Travel Nursing
While considering broadening your career professionally and personally … we know that you will find the material in this Nursing Specialty ebook helpful.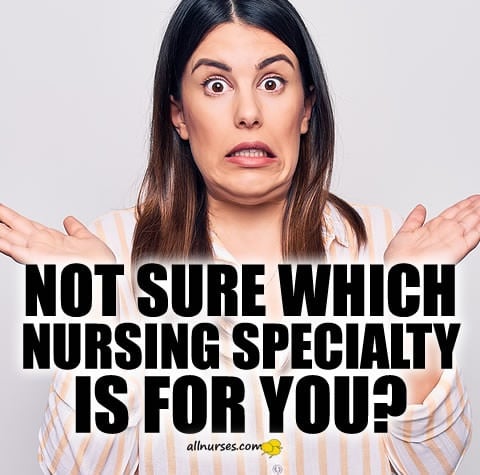 Table of Contents
Introduction
Specialties
Addictions Nursing
Aesthetic / Plastic Surgery Nursing
Agency Nursing
Burn Nursing
Camp Nursing
Camp Nursing: Choosing a Camp
Camp Nursing: 10 Camp Nursing Lessons
Case Management Nursing (CM)
Certified Nurse-Midwives (CNM)
Certified Registered Nurse Anesthetist (CRNA)
Correctional Nursing
Developmental Disabilities Nursing
Diabetes Nursing
Dialysis and Renal Nursing
Emergency Nursing
Endocrinology Nursing
Faith Community Nursing (FCN) / Parish Nursing
Faith Community Nurse 101
Foot Care Nursing
Forensic Nursing (FN)
Forensic Nursing (FN): Programs
Forensic Nursing: Sexual Assault Nurse Examiner – Part 1
Forensic Nursing: Role of the Forensic Nurse – Part 2
Gastroenterology Nursing
Gastrointestinal (GI) Nursing
Government Nursing
Hospice Care vs Palliative Care
Hospice Nursing - Compassionate Care at the End of Life
Hyperbaric Nursing
Infectious (ID) Disease Nursing
Legal Nurse Consultant (LNC)
Legal Nurse Consultant (LNC): Educative Entities
Legal Nurse Consultant (LNC): FAQ
Medical-Surgical Nursing (Med-Surg)
Military Nursing
Neonatal Intensive Care Unit (NICU) Nursing
Neuroscience Nursing
Nurse Educators/ Faculty
Nurse Massage Therapists
Nursing Informatics (NI)
Oncology Nursing
Operating Room / Perioperative Nursing
Operating Room Nurse: Roles
Orthopedic Nursing
Pain Management Nursing
Psychiatric/Mental Health Nursing
Pulmonary Nursing
Radiology Nursing
Radiology Nursing: Tips
School Nursing
Trauma Nursing
Travel Nursing
Urology Nursing
Volunteer Nursing
Wound / Ostomy / Continence Nursing
Post questions below...