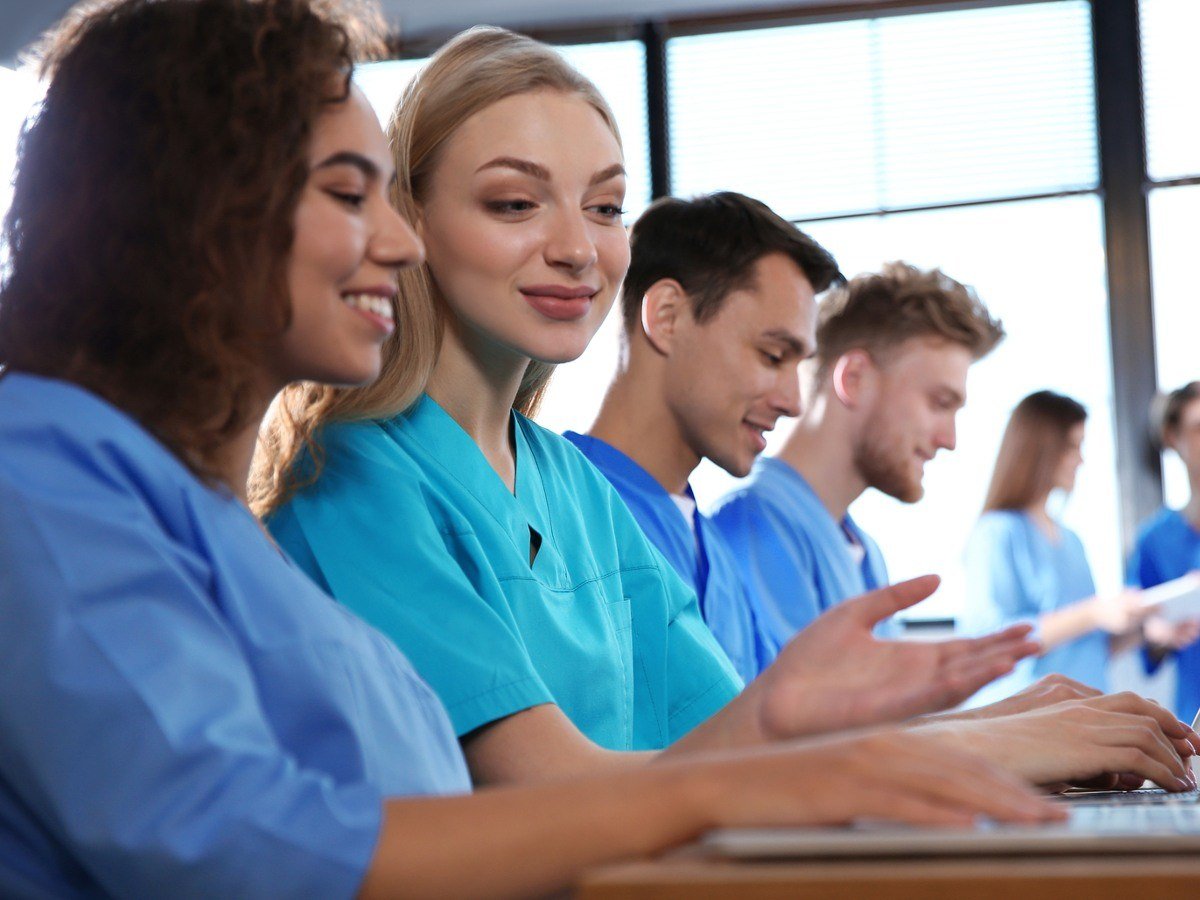 Chicago, a bustling metropolis renowned for its rich cultural heritage, iconic skyline, and vibrant arts scene, is also home to some of the nation's top nursing schools.
As the demand for skilled healthcare professionals continues to grow, the Windy City stands at the forefront of nursing education, offering many opportunities for aspiring nurses to embark on a fulfilling and impactful career.
From esteemed universities to community colleges, Chicago boasts an impressive array of nursing programs that cater to diverse educational and career paths. Whether you dream of caring for patients in critical care units, advocating for women's health, or leading healthcare innovations, the city's nursing schools provide a nurturing environment that cultivates compassion, competence, and excellence in nursing practice.
Nursing Schools in Chicago
Chicago State University offers a comprehensive four-year Bachelor of Science in Nursing (BSN) program, providing students with a strong foundation in nursing theory, practical skills, and clinical experiences. The program prioritizes individual attention to the students and offers small class sizes with personalized mentoring.
Location: 9501 S King Dr, Chicago, IL 60628
Programs:
Malcolm X College, part of the City Colleges of Chicago, offers an Associate Degree in Nursing (ADN) program. This two-year program equips students with essential nursing knowledge and hands-on training, both in the classroom and through clinical experiences in Chicago, surrounding suburban area hospitals, and primary care facilities.
Location: 1900 W Jackson Blvd, Chicago, IL 60612
Programs:
DePaul University's School of Nursing offers innovative and pragmatic nursing education, setting high academic standards and real-world relevance for 65 years. From the Master's Entry to Nursing Practice (MENP) program to the Doctor of Nursing Practice (DNP) program, they provide a range of options for aspiring nurses to achieve professional success and recognition among healthcare providers in the metropolitan area.
Location: 2400 N Sheffield Ave, Chicago, IL 60614
Programs:
BSN 
MSN 
MENP
DNP
Graduate Certificates

Adult-Gerontological Nurse Practitioner
Family Nurse Practitioner
The Associate Degree in Nursing Program (ADN) at Instituto College is a two-year program designed to provide healthcare field students with nursing coursework and prepare them to become registered nurses through licensure overseen by the Illinois Department of Financial and Professional Regulation. The program caters to non-traditional students, such as immigrants, working mothers, and older-generation students, offering flexibility in class schedules and utilizing Summer semesters to distribute the course load evenly throughout the academic year.
Location: 2570 S Blue Island Ave, Chicago, IL 60608
Programs:
Loyola University Chicago's Marcella Niehoff School of Nursing takes an integrated approach to nursing education, practice, and research, shaping students to serve humanity with a strong ethical foundation. With a wide range of high-quality and accessible programs, Loyola Nursing equips graduates with the competencies and knowledge to deliver top-notch patient care and influence the future of healthcare, all within an inclusive learning environment that embraces cura personalis, caring for the whole person.
Location: 1032 W Sheridan Rd, Chicago, IL 60660
Programs:
BSN
Accelerated BSN
MSN
DNP Programs

Clinical Nurse Specialist (CNS)
Systems Leadership Track
Adult-Gerontology Acute Care NP
Adult-Gerontology Primary Care NP
Adult-Gerontology Primary Care NP with Oncology specialty
Family NP
Family NP with Emergency specialty
Psychiatric Mental Health NP
Psychiatric Mental Health NP with Substance Use and Addictions specialty
Women's Health/Gender Related NP

Ph.D.
North Park University's BSN program prepares students to become skilled nursing professionals through a rigorous academic curriculum and hands-on clinical experiences. The program focuses on holistic patient care and ethical nursing practices.
Location: 3225 W Foster Ave, Chicago, IL 60625
Programs:
BSN
RN to BSN
MSN Programs

Direct Entry MSN
Adult-Gerontology Primary Care NP
Family NP
Leadership and Management

DNP
Graduate Certificates

Adult-Gerontology Primary Care NP
Family NP
Prairie State College offers an ADN program that provides students with the necessary knowledge and skills to excel as registered nurses. The program emphasizes the importance of patient advocacy and culturally sensitive care.
Location: 202 S Halsted St, Chicago Heights, IL 60411
Programs:
Oak Point University's Bachelor of Science in Nursing program aims to produce highly competent and compassionate nurses in 16 to 24 months. The curriculum incorporates cutting-edge nursing practices and emphasizes leadership skills to prepare graduates for leadership roles in healthcare.
Location: 1431 N. Claremont Ave. Chicago, IL 60622
Programs:
BSN
MSN Programs

Nurse Educator
Family NP
Adult-Gerontology Primary Care NP
Psychiatric-Mental Health NP
Adult-Gerontology Acute Care NP

DNP
Robert Morris University Illinois emphasizes critical thinking, communication, and teamwork, which are essential for successful nursing professionals. The program offers two study tracks, catering to high school graduates and individuals with baccalaureate degrees in other fields, and boasts a high NCLEX first-time pass rate.
Location: 401 S State St, Chicago, IL 60605
Programs:
BSN
MSN Programs
DNP Programs

Family NP
Psychiatric-Mental Health NP
Roosevelt University's 3-year BSN program prepares students to deliver patient-centered care and navigate complex healthcare systems. The program emphasizes evidence-based practice and incorporates real-world experiences to ensure graduates are well-prepared for their nursing careers.
Location: 430 S Michigan Ave, Chicago, IL 60605
Programs:
Rush University offers an MSN and a MENP program. The MSN program is designed for registered nurses seeking advanced practice roles, while the MENP program is for students with a bachelor's degree in another field who want to pursue a nursing career. The MSN program provides various specializations to meet the diverse career goals of its students.
Location: 1653 W Congress Pkwy #12, Chicago, IL 60612
Programs:
MSN 
MENP
DNP Programs

Anesthesia
Family NP
Adult-Gerontology Primary Care NP
Neonatla NP
Pediatric Acute Care NP
Pediatric Primary Care NP
Psychiatric-Mental Health NP
Transformative Leadership: Population Health
Transformative Leadership: Systems

Ph.D.
Saint Xavier University provides top-ranked nursing programs in traditional and accelerated BSN. The university's nursing curriculum emphasizes patient safety, ethics, and professionalism, shaping graduates into competent and compassionate nurses.
Location: 3700 W 103rd St, Chicago, IL 60655
Programs:
BSN
Accelerated BSN
LPN to BSN
MSN Programs

Clinical Leadership
Family NP
Nurse Educator

Graduate Certificates

Clinical Leadership
Family NP
Nurse Educator
The University of Illinois at Chicago offers BSN and MSN programs. The nursing school's cutting-edge education and research opportunities enable students to become leaders in the nursing profession.
Location: East Area Office SRCS MC 117, 700 S Halsted St, Chicago, IL 60607
Programs:
BSN 
MSN
DNP
Ph.D.
Graduate Certificates

Schools Nursing
Global Health Nursing
Teaching/Learning in Nursing and Health Sciences
Hospice and Palliative Care
Types of Nursing Programs in Chicago
Many different types of nursing schools, certificates, and diplomas are available. However, the most common programs obtained by nursing professionals include:
In Chicago, the LPN program serves as an entry point for many into the nursing profession. Typically lasting about a year, this program equips students with foundational nursing skills. Graduates are prepared to provide basic patient care under the supervision of registered nurses or physicians.
Chicago's diverse healthcare settings, from major hospitals to community clinics, offer LPN students a rich environment for clinical practice and job opportunities upon graduation.
In Chicago, the ADN program serves as a foundational pathway for those aspiring to become RNs. Typically spanning two years, this program offers a balance between theoretical nursing concepts and practical clinical experiences. Students delve into core nursing subjects such as anatomy, physiology, pharmacology, and patient care techniques.
Upon completion of the ADN program in Chicago, graduates are eligible to take the NCLEX-RN exam. Successfully passing this exam grants them the title of RN. With the city's vast healthcare infrastructure, ADN-prepared RNs find ample employment opportunities across different healthcare settings.
Chicago's BSN programs are comprehensive, typically spanning four years, and are designed to provide students with a deep understanding of nursing theory, research, and practice.
These programs combine rigorous classroom instruction with hands-on clinical experiences in the city's top-tier healthcare institutions. Graduates emerge with a holistic understanding of patient care and are prepared for a wide range of nursing roles in diverse settings.
For RNs in Chicago who initially pursued an associate degree or diploma in nursing, the RN to BSN programs offer an opportunity to further their education and career prospects.
These programs recognize the experience and knowledge of RNs, providing a pathway to earn a bachelor's degree in a shorter time frame. With Chicago's status as a major healthcare hub, an advanced degree can open doors to leadership roles and specialized nursing positions.
Chicago's MSN programs cater to BSN-prepared nurses aiming to delve deeper into specialized areas of nursing or move into advanced practice roles. These programs often offer tracks in areas like Nursing Education, Nurse Practitioner, or Nursing Leadership.
Given Chicago's prominence in the healthcare sector, MSN graduates find themselves in a prime position to influence patient care, healthcare policy, and nursing education in the city and beyond.
The DNP is the pinnacle of clinical nursing education in Chicago. This doctoral program is designed for nurses seeking the highest level of clinical practice expertise.
Emphasizing evidence-based practice, leadership, and advanced clinical skills, DNP programs in Chicago prepare nurses to drive healthcare innovations, influence policy, and improve patient outcomes across the city's diverse healthcare landscape. Given Chicago's dynamic healthcare environment, DNP-prepared nurses play an essential role in shaping the future of patient care in the Windy City.
What's It Like to Study in Chicago?
Studying to become a nurse in Chicago can be an enriching and dynamic experience. Here are some aspects of what it's like to study there:
Nursing Schools and Programs: Chicago is home to several reputable nursing schools and programs, including universities, colleges, and community colleges. These institutions offer a variety of nursing degrees. Some schools may also provide online or part-time study options to accommodate diverse student needs.
Clinical Experience Opportunities: Chicago's healthcare landscape provides nursing students with extensive clinical experience opportunities. The city has numerous world-class hospitals, clinics, nursing homes, and specialty centers. These facilities offer diverse patient populations and various medical conditions, allowing students to gain hands-on experience in various healthcare settings.
Faculty and Resources: In Chicago, nursing schools have many experienced faculty members committed to delivering exceptional education and mentorship to their students, ensuring a high standard of learning. Nursing programs typically offer state-of-the-art simulation labs, libraries, and other resources to enhance students' learning experience.
Diverse Patient Population: Chicago's population is incredibly diverse, representing a broad spectrum of cultures and backgrounds. As a nursing student, you will be able to work with patients from various ethnicities and socioeconomic backgrounds, enriching your cultural competency and understanding of patient-centered care.
Competitive Environment: Chicago's nursing programs can be competitive as a major metropolitan area. Admission to nursing schools may require meeting specific GPA and prerequisite course requirements. It's essential to prepare well and plan to increase your chances of acceptance into the program of your choice.
Networking Opportunities: Studying in Chicago means being part of a vast, interconnected healthcare community. Engaging in networking events, joining nursing associations, and participating in healthcare conferences can help you build valuable connections and potential career opportunities in the city's thriving healthcare sector.
Clinical Challenges: Nursing education in Chicago, like anywhere else, can be physically and emotionally demanding. As a nursing student, you will encounter various medical conditions, complex patient situations, and challenging clinical scenarios. Nevertheless, these encounters will foster the growth of your critical thinking, problem-solving abilities, and resilience, shaping you into a resilient and adept future nurse.
Career Opportunities: After completing your nursing education in Chicago, you will have access to many nursing career opportunities within the city's healthcare system. The city's robust healthcare sector, including prestigious hospitals and research institutions, can open doors to various nursing specialties and advancement in your career.
Remember that nursing education is a transformative journey that requires dedication, hard work, and a genuine passion for helping others. Studying to become a nurse in Chicago offers excellent education and exposes you to this world-class city's diverse and vibrant culture, providing a unique and memorable experience as you pursue your nursing career.
Frequently Asked Questions (FAQ)
How do I choose the right nursing school in Chicago for me?
When selecting a nursing school, consider factors such as accreditation, program reputation, faculty qualifications, clinical opportunities, class sizes, and location. Research each school thoroughly, visit campuses if possible, and talk to current students or alumni to gain insights into the program's strengths and weaknesses.
What are the prerequisites for nursing school in Chicago?
Prerequisites vary by program, but standard requirements may include biology, chemistry, anatomy, physiology, Microbiology, and psychology courses. Some schools may also require specific GPA and standardized test scores (e.g., TEAS or HESI).
Can I work while attending nursing school in Chicago?
Many nursing students in Chicago work part-time or per diem jobs to support themselves during their studies. However, nursing school is demanding, so balancing work and academics is essential to ensure success in both areas.
Are there any financial aid options available for nursing students in Chicago?
Yes, nursing students in Chicago can explore various financial aid options, including scholarships, grants, loans, bursaries, and work-study programs. Additionally, some healthcare facilities may offer tuition reimbursement or assistance for nursing students.