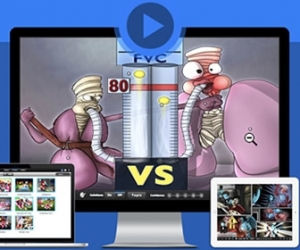 Study Smarter, Review Faster, Remember More
Picmonic has already transformed the way a half million healthcare students learn and prepare for their exams by incorporating the science behind memory into its revolutionary platform.
Picmonic is a picture-based, audiovisual and quiz learning tool that simplifies test prep. Get your life back by studying less and remembering more. Nursing students say that Picmonic is the most comprehensive and effective way to bridge learning and test prep. Lots of tools will help you learn, review and practice test questions. But do they increase your retention, make your preparation time count, and boost your exam performance? When you walk out of lectures, are the details cemented in? They will be if you built a foundation with Picmonic (memory) and then practiced with qbanks (application).
How Does it Work?
Picmonic turns key facts into unforgettable pictures and stories. Penicillin becomes the Pencil-villain and Warfarin the War-fairy. Just imagine it, from day one of nursing school through the NCLEX® and beyond, Picmonic has you covered with over 1,000, 3-minute mnemonic videos & adaptive review quizzes that are unbelievably efficient & ridiculously effective so that you actually remember what you learn in school and ace every exam.
The Picmonic for Nursing Content Library
Pharmacology (237 videos)
Med Surg (404 videos)
Anatomy (66 videos)
Physiology (126 videos)
Fundamentals (181 videos)
Critical Care (137 videos)
Obstetrics (65 videos)
Psychiatric (77 videos)
Pediatric (54 videos)
Microbiology (207 videos)
NCLEX®-RN & NCLEX®-LPN
More effective learning means that you achieve a deeper understanding of concepts for the long-term. By not having to spend as much time repetitively reviewing key facts, students have more time for application and practice. Stress is reduced, creating more favorable conditions for continued learning and retention of huge volumes of material.
Picmonic is Based on Science and Proven by Research
After many years of development and testing, you can feel confident that Picmonic is proven to be effective at improving retention and test scores. In a randomized, double-blind, controlled study, the Picmonic Learning System was compared to text-based material (like textbooks and lecture notes) and found that students improved long-term memory retention by 331%. (Adv. Med. Educ. Pract. 2014 May 8; 5: 125-32 doi: 10.2147/AMEP.S61875. eCollection 2014).
Frequently Asked Questions
Is Picmonic only for the NCLEX®?
No way! Picmonic for Nursing RN covers information that is relevant to your entire nursing education. Whether you're studying for your classes, getting ready to pass the NCLEX®, or just brushing up on some fundamentals, we're here to help. You can view our topic list above to see what we cover!
What do I get with a subscription?
You get access to all 1,000+ Picmonics for Nursing and 11,000+ fact quizzes, plus access to our Question of the Day, webinars, and more on both web and mobile apps.
How do I use Picmonic alongside my books, classes & question banks to improve retention?
(1) Watch Picmonic's concise 2-4 minute videos BEFORE lectures to create a "mental scaffold" - ie memory anchors. You are creating a filing cabinet for your brain!
(2) Then layer the deep medical information onto this scaffold with your textbooks, lectures, and videos from NRSNG or Osmosis.
(3) Use Picmonic recall quizzes after lectures to ensure what you learned sticks - it's never too late to lock in the details!
What Do Students Say?
I love Picmonic! It's good for most subjects and AMAZING for Pharmacology – I retain everything. Picmonic is goofier which helps – I keep it open in class and re-listen to audios when driving with Play All. It's helpful that the drug brand names are included, and that a little of the stories & scene are included in the educational audio! In comparison, SketchyNursing is more expensive, and the connections aren't as strong. Their videos are 25 minutes long, taking too much time and work to find relevant content inside of a video. – Lori G., RN Student, SUNY Buffalo.
Picmonic helped me retain information I wasn't retaining through reading alone. I'm a very visual learner, so these videos have been so helpful. Even if it's only one or two facts that I retain, it's more than I otherwise would have. And the videos are fairly quick. I love how I can take the quiz after to really cement the information I just learned. Perfect for nursing school! – Pamma D., RN Student, Western Governor's University.
This stuff is amazing! The content sticks so much better with Picmonics! – Daniel H., RN Student, University of Northern Colorado.
Being in an online accelerated program requires much more reading in a shorter amount of time. With so much material per week to cover before exams, Picmonic helps consolidate the load by highlighting key facts that i can focus on. The speed in which material is covered is beneficial to my time restraint. I highly recommend it for the visual learner too. – Esmeralda S., RN Student, The University of Texas At Arlington.
My pharmacology instructor introduced our class to Picmonic and I fell in love right away. We went in as a group membership, and it's been the best money I have spent on additional resources. I just graduated and had the '4 Weeks to NCLEX®' workbook and study planner printed and bound. – Lauren W, Nursing Student.
This service got me through a super accelerated Pharmacology in Nursing course. It got through my head everything that 4-hour lectures and a great-but-long textbook could not. – Jessica W, Nursing Student, Arizona State University.
Picmonic took down the stress level of learning new topics and re-learning information that I had already been familiar with. I felt much less overwhelmed with all of the material I was expected to know. Picmonic makes sense in my brain and I can use it on my phone, iPad, computer. I have the ability to use Picmonic whenever I have time and I can recall much more when it is test time. The price was steep for me, but since I took the plunge, I really do not regret it. – Ragen H., NP Student, University of Michigan-Flint.
I am a super busy clinical supervisor, so I work well over 40+ hours a week. I also am in a vigorous Nurse Practitioner program. Taking three classes a week along with its workload are a lot! A classmate mentioned use of Picmonics to help with remembering all the pharmacology-related material. I was hooked after the free trial. I still remember the mnemonics and pictures for Pharm II. I highly recommend it for any medical program! – Nancy C., NP Student, Simmons College.
I'm so sad I didn't hear about Picmonic sooner! I found out it about during finals season in Nursing school and I thought I was completely hopeless but decided to give Picmonic a try anyway, my grades could not go any lower anyway. So I did. And it was amazing! I've never been able to retain so much information in so little time! And when exam time came, I remembered almost everything I had seen on Picmonic because of the images that had been imprinted in my brain! I'm so happy with this product. It's seriously worth EVERY PENNY and more! It saved my life and I've been telling everyone about it ever since! – Betiana F., RN Student, Valencia Community College.
What Do Educators Say?
Picmonic takes challenging content and makes it understandable and memorable, while building the connections that will lead to better analysis and critical thinking. As a study tool, Picmonic offers review strategies that are critical for doing well on board and certification exams. - Tonya T, RN, MSN, MBA, COS-C - Director of Nursing & Associate Professor at Northeast Texas Community College.
Features
1,000+ Picmonic videos covering all major nursing subjects
11,000 multiple choice quiz questions
Daily Review Quiz with Spaced Repetition (Auto-generated daily queue of study topics) Mobile Apps
Study anytime, anywhere with Print & Go, and iOS and Android mobile apps
Textbooks mapping! Picmonic content is mapped by chapter to the most popular nursing books so you can know what to study, when, and follow along with your assigned reading
Personal Dashboard with customized study recommendations
Create and share personalized playlists
The Resource Portal: access study guides, webinar videos, infographics and more
Add facts and images to our content, or create your own Picmonics
Versions Available
Unique content libraries for: Nursing RN, Nursing LPN, and Nurse Practitioner Available on: Web, iOS App, and Android App.
MSRP
$12.00
$96.00
Promos and Offers
Explore Picmonic Free! A Picmonic Free account will give you access to more content every single day - no credit card required
Guarantee
We're so confident that Picmonic will help you pass NCLEX, we'll give you your money back if you are not successful with our Pass the NCLEX Guarantee.
Return Policy
7-day full money back guarantee if purchased through picmonic.com.
Where to Purchase
Contact Information
Telephone: (480) 499-0887
email: feedback@picmonic.com
Address: 515 E Grant St, Phoenix, AZ 85004