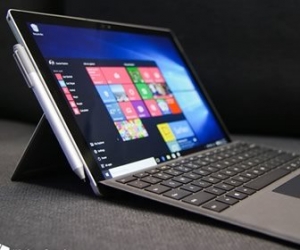 Powerful Tablet and Laptop
Microsoft Surface Pro is the latest iteration of the Surface series. The 2-in-1 laptop/tablet hybrid is a breath of fresh air for people always on the move. It's ultralight, mobile, and has a powerful battery life.
The Surface Pro is a powerful tablet with the ability to use as a laptop. Attach the modular keyboard to the bottom of the tablet and prop the screen up. The keyboard is a fully featured QWERTY keyboard with a built-in trackpad, so you don't need a mouse.
The Surface Pro gives you a desktop experience without the limitations of a tablet. Open multiple web pages, play music in the background, work on a spreadsheet, write a research paper, or view your favorite movies in high definition.
Quick Recap
Desktop experience without the limitations of a tablet.
Get things done faster; Multitask with multiple apps opened.
Share notes and collaborate with friends.
Store thousands of photos, documents, or hours of HD video.
Microsoft Surface Pro 4 Specifications
Software
Windows 10 Pro Office 365 30-day trial
PixelSense™ Display
12.3"
Storage
SSD hard drive; Up to 1 TB;
Battery Life
Up to 13.5 hours of video playback
Processor
Intel Core m3, i5, or i7
Graphics
Intel® HD Graphics 615 (m3)
Intel® HD Graphics 620 (i5)
Intel® Iris™ Plus Graphics 640 (i7)
Security
TPM chip for enterprise security
Enterprise-grade protection with Windows Hello face sign-in
Memory
4GB, 8GB, or 16GB RAM
Wireless
Wi-Fi: 802.11ac, 802.11 a/b/g/n, Bluetooth 4.1
Ports
USB 3.0
microSDXC card reader
3.5mm Headphone jack
Mini DisplayPort
Camera
5.0MP front 1080p HD; 8.0MP rear
What's in the box
Surface Pro 4
Surface Pen
Power Supply
Quick Start Guide
Safety and warranty documents
Increase Productivity - Multitasking
The Microsoft Surface Pro is the perfect choice for nurses, students, educators, and entrepreneurs. With its portability and power, you can work on the move, never having to stop to put it down. The included Surface Pen is compatible with Windows Ink and adds a new layer of ease.
The Microsoft Surface Pro offers multiple ways to increase your productivity. Take two distinct apps/windows and snap them to the sides of the screen to create a split screen.
With Windows 10 Task View feature you can switch between apps and windows with ease. Each app can be controlled independently of the others to reduce the chance of making errors.
Share Notes and Collaborate With Others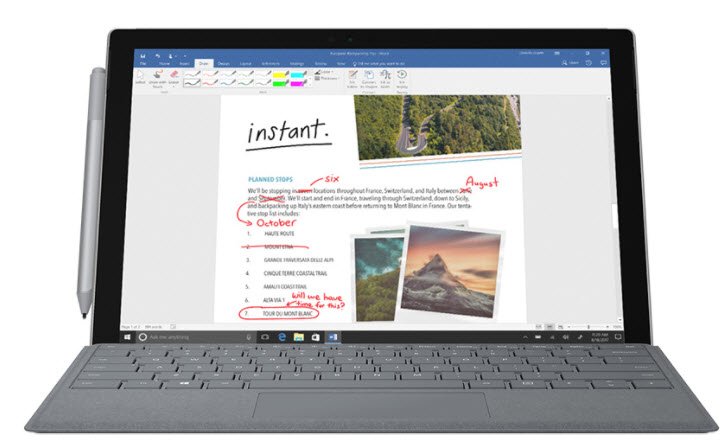 Windows Ink is the next big innovation in collaborative work. Share notes, adjustments, and comments in real time with friends and co-workers.
Use your pen to bring your thoughts to life.
You can you edit information in any Microsoft Office application and make notes to yourself.  You can edit Word documents the easy way. Draw a line through words to them delete them, select any text just by drawing a circle around it. With the pen, you can highlight text and transform drawings into vector shapes.
Enhance your teaching or add visuals to aid understanding. With Ink and OneNote you can write down math problems and have the computer solve the problem. You can even break it down and see a step-by-step how to.
Even Powerpoint gets easier with the pen. You can draw, add notes to slides, and view collaborators' markups live. 
Starting at $799 you can get your hands on the laptop that changes the very definition of a portable computer.
Frequently Asked Questions
What operating system does Surface Pro run? Surface Pro runs Windows 10 Pro.
Can I run many programs at the same time?Yes, you can have multiple applications running at the same time.
Does the pen work with other Surface devices? Yes. The pen is compatible with other Surface devices.