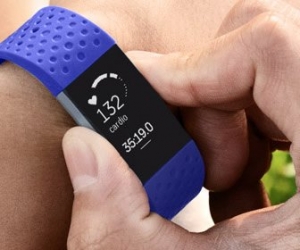 Quick Recap
Smart Fitness Watch
Tracks all types of activity
Five days of battery life
Different styles for different folk
Fitness Tracking and Smartwatch
The Fitbit Charge is an activity tracker to track your fitness progress. It's used to monitor and track all your activities. Best of all, it's an excellent motivational tool.
The Charge 2 also has smart-watch capabilities. The watch can alert you to incoming calls, send you text, and calendar alerts, so you don't have to miss a beat. It also sends you reminders to keep up with your activity.
You'll never miss a workout with the Fitbit Charge 2.
Pedometer, Heart Rate, Sleep, and Calorie Tracker
The Fitbit Charge 2 has a couple of new features not seen before on previous iterations of the fitness accessory.   
The Fitbit charge 2 has built-in trackers and sensors so that it can give you the most accurate information you need. The Charge 2 still has a pedometer feature, but it also includes a heart rate monitor, sleep tracker, GPS, and calorie counter.
The Fitbit Charge 2 now has a heart-rate sensor to allow you to monitor your heart during exercise or daily activities. It's a great way to check your heart rate for the type of training you are doing. The Fitbit Charge 2 even provides you with guided breathing sessions based on your heart rate.
The Fitbit Charge 2 also has a built-in sleep tracker. The purpose of the sleep tracker is to help you keep track of your sleeping habits so that you can maximize your health training. It automatically keeps track of how long and how often you sleep. The Fitbit Charge 2 can detect and show your time in light, deep, and REM sleep.
Fitbit Charge 2 Specs
Wristband
Made from elastomer material (no latex)
Changeable
Battery life
5-day
Watchface
Customizable
Connection
Wireless / Bluetooth™
Sensors/Trackers
Heart rate sensor
Calorie tracker
Sleep tracker
Step tracker
Fitness Data Wherever Whenever
With the Fitbit app (available in Android, iOS, and Windows 10) you have access to all of your statistics on the fly. Every bit of information that is tracked by the Charge 2 gets logged to your account.
Learn your average heart rate for an exercise, how many miles you ran last week, how many minutes you spend on an activity.
The app creates graphs and easy to understand tables based on the information it collects. Your data is synced across all devices and available in your Fitbit account.
All this data is not only useful to you, but personal trainers can also use it. Instead of having to run tests or ask multiple questions your trainer can look at the information stored by your Fitbit Charge 2. The Charge 2 will provide a rough estimation of your health such as caloric consumption, heart rate, exercise habits, and sleeping habits.
Tailored to Your Style
The Fitbit Charge 2 may be a fitness watch, but that doesn't mean that it has to look like one. Up your style with different watch straps and accessories. Get yourself a leather band instead of the sporty strap. There are special editions available in Lavender / 22k Rose Gold Plated and Black / Gunmetal Stainless Steel for those with fancier taste.
Frequently Asked Questions
What colors are available for the Charge 2? The Fitbit Charge 2 comes in black, plum, blue, teal.
What sizes are available? The Fitbit Charge 2 comes in Small, large and XL.
Is there a warranty available? There is a one-year limited warranty, but you can opt for a two-year protection plan with accidental damage coverage.
Can the Fitbit Charge 2 cause an allergic reaction? The buckle is made of stainless steel which may contain nickel. Someone sensitive to nickel may have an allergic reaction.