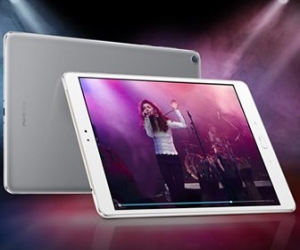 Asus ZenPad 3S 10
Asus has been a popular player in the computer market for years. They also have created a number of tablets including the Asus ZenPad 3S that offers you an immersive experience into a wide variety of media. Like most tablets, the ZenPad offers a great medium between a phone and a laptop with a 9.7" touchscreen. The ZenPad also is equipped with great visual and audio features. Also, somewhat unique among tablets is the fingerprint reader similar to what is seen on a number of popular phones.   
What the Asus ZenPad 3S 10 Can Do
Offer a great metal craftsmanship that is incredibly thin
Display content on a large, high quality screen
Play audio louder than before and offer 4 times the average CD quality sound
Fast and powerful enough for the latest Android games
Secured with fingerprint technology
Benefits
The ZenPad is a productive device capable of watching shows and playing games or even doing more robust tasks. This makes it ideal for someone who is interested having a new laptop style mobile device that functions in the Android environment they may already be comfortable with from using their phone. Plus the Android operating system allows for you to easily attach USB or Bluetooth devices like keyboards or mouses.     
SPECIFICATIONS
Dimensions
9.46"x6.44"x0.22"
Weight
0.94 lbs
Screen Size
9.7"
Camera
5 MP Front / 8 MP Back
Exterior Color
Silver or Gray
Operating System
Android 6.0
Processor
MTK MT8176 Dual-Core 2.1 GHx+Quad-Core 1.7 GHz, 64bit
Memory
4GB RAM and 32GB or 64GB Storage Space
Features
VisualMaster technology comes equipped in the ZenPad's screen, along with 2K resolution. This makes for a spectacular view, no matter what you are working on or watching. Asus also states that the screen has a 178 degree viewing angle, which allows for viewing from nearly the entire front side of the device. Beyond viewership, the audio also sounds great with the dtsHD Premium Sound and 7.1 channel surround sound.
Gaming on the device is spectacular as well. By utilizing the Hexa-Core CPU, 4GB RAM, and GX 6250 IMG GPU the ZenPad is able to play even the highest quality Android games. The ZenUI Game Genie also comes pre-installed. This pop up toolbar allows you to search for game information and stream live to YouTube Gaming while playing.
Despite not being a key feature for any tablet, the ZenPad is equipped with both a front and rear camera. The 8 MP back and 5 MP front camera may not be better than the camera in your smartphone, but they are still capable of taking fair quality pictures, particularly in low light.
Like many popular phones, the ZenPad is secured with fingerprint technology allowing you to unlock your tablet faster as well as have increased security. For households with multiple people interested in using the tablet, the device is capable of saving five different fingerprints, so each user can log in.
Another benefit tablets can provide compared to many smartphones is their sizable battery that can be packed in a larger device. The ZenPad is no different, with a huge 5900mAh battery that is Quick Charge 3.0 compatible. While only a standard charger is included, a Quick Charge 3.0 charger can be purchased separately to allow the device to charge even faster.
Frequently Asked Questions
Is there a stylus available that is compatible with the ZenPad? While there are many inexpensive basic stylus devices available, those looking for the best option should look into Asus official Z Stylus. Sold separately, the stylus is battery operated and allows for precision accuracy using its 1.2mm tip.  
Is the Android software on the device up to date?The ZenPad 3S is pre-installed with Android 6.0. This version was released in 2015 and has since been replaced with the 7.0 and 7.1 software updates. The ZenPad cannot be updated to the new software, however this does not necessarily harm the functionality of the tablet. Android still officially supports versions as old as 4.4 (including the ZenPad's version). So the software on the ZenPad still has a lot of life left.
Offers and Promos
MSRP Starting at $299.00
Newegg $289.00
Amazon $289.00
Best Buy $299.99