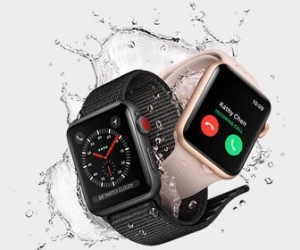 What can the Apple Watch 3 do?
The popular Apple Watch brand recently released their third generation of the popular multi-purpose device. While the watch looks quite similar to the previous generations, this is the first time the device features cellular connection. This opens up the option for users to access information straight from their watch, without needing to be in close proximity of their phone (like in previous models). The wealth of improvements Apple has made to the new device makes it a great option for those looking for a new watch or even to upgrade their existing Apple Watch model.
Remain constantly connected, even when you are not carrying your phone
Stream millions of songs to your watch
Communicate with Siri easily
Help you achieve your fitness goals
Customize with a wealth of faceplate, case and band options
38MM SCREEN SPECIFICATIONS
Dimensions
38.6mm x 33.3mm x 11.4mm
Weight
26.7 grams
Screen Size
38mm
Processor
Faster dual-core processor (compared to previous models)
Benefits
The Apple Watch's clear benefit comes in its ability to keep you constantly connected. While this is the first generation to offer cellular service for the device, it is not required. There is still a less expensive model available that connects to your phone via Bluetooth while transmitting all the same information (from a close proximity to your phone). 
Calls, texts, and notifications are all easily available on your wrist. This can be quite convenient for when you are exercising or simply do not have pocket space to hold your phone. 
Features
Those who love music will enjoy the new Apple Watch's streaming abilities. Forty million songs are available through Apple Music for streaming directly to your wrist. This massive library is sure to have nearly all of the music you could ever want. 
Siri, the popular AI that many Apple users are familiar with, now works better than ever in the Apple Watch's third generation. Plus, the ability to control the watch with your phone will leave you navigating your world through the sound of your voice, all without your phone nearby.
42MM SCREEN SPECIFICATIONS
Dimensions
42.5mm x 36.4mm x 11.4mm
Weight
32.3 grams
Screen Size
42mm
Processor
Faster dual-core processor (compared to previous models)
Fitness is still a key focus for the new Apple Watch, as the ring fitness tracking system returns. The system also coaches you along by reminding you to meet your goals and updating you on your progress. Your friends who also use Apple Watch can compete against you through the Activity Sharing feature.
The options to create a unique Apple Watch have also expanded; now with multiple different case options and even more band offerings. Aluminum, ceramic, steel, and stainless steel cases can be coupled with various bands to create a watch that is unique to you. The faceplate is also highly customizable, offering plenty of layouts to pick from on the digital screen.   
Frequently Asked Questions
When playing music from your watch, does it play out of a speaker on the watch? The watch does have a built-in speaker, but the primary way to listen to music is through the headphones. Yes, the headphones can connect to the watch (Bluetooth only), all without using your phone. 
I heard you can swim with your watch on. How water resistant is it?The Apple Watch is great for swimmers as it is water resistant up to 50 meters. 
Offers and Promos
MSRP Starting at $329
Apple $329 and up
Target $329 and up
Best Buy $329 and up