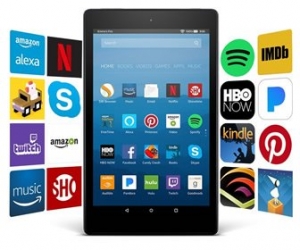 What can the Amazon Fire HD8 do?
Amazon has created tablets for over five years and in doing so, shifted their focus from high end to value-priced offerings. The online retailer with a reputation for low prices just keeps pushing more value into their Fire tablet line with every release. For $79.99 you will not find all of the features you would see on an iPad, but you will still get a lot for your money.    
Access information with the Alexa AI
Watch millions of movies, TV shows, listen to music, and play games
Take full advantage of your Amazon Prime membership
Easily share your device with your child in "FreeTime" mode
Feel protected knowing the Fire is four times more durable than iPad
SPECIFICATIONS
Dimensions
8.4"x5.0"x0.4"
Weight
13.0 ounces
Screen Size
8"
Camera
2MP rear, VGA front
Exterior Color
Black, Blue, Red, Yellow
Operating System
Amazon Fire OS (based on Android)
Processor
Quad-Core 1.3 GHz  
Memory
1.5GB RAM, 16GB or 32GB internal memory
Benefits
The Fire HD8 offers a no-frills Android tablet experience at a price significantly lower than the competition. In fact, the price is one of the main benefits of selecting a Fire. Not only is it four times more durable than the iPad, in the event it would break, it would be less expensive to replace than a competitor. The Fire HD8 operates on the Fire OS (which is really a slightly modified version of Android) and can can use many of the popular apps available on your phone. The storage space (16GB or 32GB), Camera (2MP) and processing power will not stand up to premium tablets, but at the fraction of the cost, the Fire HD8 still offers users a good Android experience. 
Features
Amazon chose to offer their own app store for the Fire HD8. This app store, managed by Amazon, allows you to download games and other content from the popular site. While many Android users are likely accustomed to the Google Play appstore, the Amazon appstore is separate and does have a slightly different app offering.
Those who are already subscribed to Amazon's "Prime" service will be able to get the most out of their subscription with a Fire HD8. As part of the membership (which costs $99 per year) users are able to access thousands of movies, TV episodes, and books as well as over two million songs. All can be streamed for free to any of your supported devices, including the Fire HD8.
Coming over from Amazon's Echo devices is the Alexa AI. Just like on the Echo devices, you are able to talk to Alexa and find information as well as control the device with voice commands. Unlike the Echo, the Fire HD8 will need to be on and Alexa will have to be physically started before a command can be made. 
A budget-priced tablet like this lends itself well to being used by kids, and Amazon took this into consideration when designing the Fire HD8. Using the Amazon FreeTime feature, kids can be given a chance to use a Fire HD8 in their own personalized way. This means when you log a child in with FreeTime the tablet layout changes and blocks certain content so you can keep your kids safe online.
FAQ
How does the HD8 compare with the less expensive Fire 7?The Fire 7 is a less expensive ($49.99 MSRP) version of the HD8. To this extent, the Fire 7 has a smaller screen of just seven inches that operates on a lower resolution. The battery and storage space in the Fire 7 are also lacking as compared to the HD8.
Do I need a case for my HD8?Despite Amazon's promotions that the HD8 is more durable than the iPad, Amazon does offer premium fabric cases for their tablets. It is entirely up to you if you want to have a case on your tablet, but if you choose, they are available on Amazon. 
Offers and Promos
MSRP Starting at $79.99
Amazon $79.99
Best Buy $79.99
Target $79.99