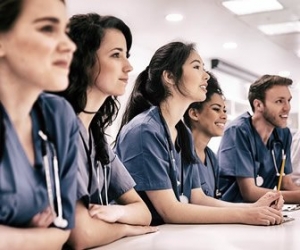 What is your learning style? Need help with test-taking strategies or just building your NCLEX confidence? Do you like to learn in a group or on your own, in a classroom, or a location of your choice? The Kaplan Nursing NCLEX® Prep breaks down the NCLEX with a mixture of practice, content, and strategy, with options for every learning style.
About Us
Kaplan Nursing NCLEX® Prep has been a world leader in Test Prep, since 1982. Our educators have helped hundreds of thousands of nursing students become licensed with a mix of content, practice, and strategy. With preparation and support from 600 licensed nurses on staff, we'll provide you with the tools you need to break down each question and systematically approach the answer.
Resources Course Materials
With your course, you'll receive the full complement of prep materials to help boost your studies: NCLEX-RN® Content Review Guide, a 500+ page ebook covering the content most frequently tested on the NCLEX® exam. Books - including Drug Guide: 300 Medications You Need to Know for the Exam; Content Review Guide, providing a comprehensive review of the essential content for the NCLEX-RN; and Basics: A Comprehensive Outline of Nursing School Content. On-the-go study - stream lectures, access Qbank and review content with the Kaplan mobile app. World-class support - with content created by licensed nurses who specialize in what it takes to pass the NCLEX®, we'll support you through every step of the process. Free NCLEX® Events - Sign up to get NCLEX® sample questions, NCLEX® practice tests, and strategy review.
NCLEX-RN® and NCLEX-PN® are registered trademarks of the National Council of State Boards of Nursing, Inc. Test names are the property of the respective trademark holders, none of whom endorse or are affiliated with Kaplan.
What Our Students Say
Quote

"My job is very stressful and it requires a lot of critical thinking and prioritization, and so I still find myself coming back to the Kaplan Decision Tree."
- Sarah B., RN, BAN, CPN, Minnesota
Quote

"Kaplan helped me accomplish my goals and was a key step in my journey toward becoming a nurse. I would heartily recommend it to any nursing student looking to thoroughly prepare for the NCLEX® and succeed on the first try."
- Brooke N., RN, Minnesota
Quote

"Kaplan taught me to get inside the brain of the NCLEX®. I can confidently say, I could not have done it without Kaplan."
- Angela E., RN, Pennsylvania
Quote

"I can honestly say that I could NOT have passed the NCLEX without the test taking skills the NCLEX Kaplan prep course provided me."
- Monica E., RN, FNP, California
Versions
Choose from In Person, Live Online, or Self-Paced courses, and get: Clinical reasoning skills with Kaplan's Decision Tree method, Content video library with 300 essential nursing content topics 3,000 exam-style questions in the NCLEX interface, including 10 practice tests Course materials including the NCLEX-RN® Content Review Guide Qbank Unlimited The NCLEX Channel featuring 24/7 access to live and on-demand videos from top faculty Pass the NCLEX® the first time - guaranteed or your money back.
Guarantee
Our pass guarantee is designed to help you pass the NCLEX® exam and begin your life as a nurse as quickly as possible. We're so confident in your abilities, that we're willing to put money on it.
Some restrictions apply to money back guarantee. See kaplannursing.com/guarantee for details.
Cost
If you only need practice, Qbank Unlimited features 2,100 test-like questions, content-rich visual explanations for answers, and detailed performance charts to measure your progress for $99
Computer Adaptive Test ($129) includes 3 full length adaptive tests giving you realistic NCLEX test experience. You'll get questions in all formats that get more difficult as you answer correctly. When finished, you'll get a detailed evaluation of your individual test performance
Purchase CAT and Qbank together for $199
For the ultimate study supplement, check out the Content + Practice Pack. It includes Qbank, CAT, and access to 24/7 Live and On Demand content videos for $279
Course Bundles from $349; the perfect blend of strategy, content, and practice, interacting with a teacher in a physical or online classroom
In Person teacher-led classroom course from $449
In Person plus CAT teacher-led classroom course from $499
Promos and Offers
Check out www.kaptest.com/nclex for offers.
Contact Information
1-800-527-8378
KaplanNursing.com
Accreditation
Kaplan is accredited by the Accrediting Council for Continuing Education Training (ACCET), a U.S. Department of Education nationally recognized agency.
Learn More about Kaplan NCLEX® Prep
Facebook.com/KaplanNCLEXPrep
Twitter.com/KaplanNCLEX