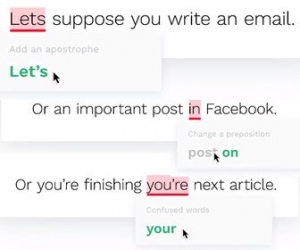 Get Your Grammar Fix
Grammarly is a web tool for writers looking to up their game. With Grammarly, you can become a better writer with the built-in revision tools. Grammarly has automatic error detection to pinpoint every mistake and rectify them without having to go searching for them. Grammarly offers both a lite version (free) and a premium version with more features.
Install Grammarly on any computer as a standalone application or as an extension to popular browsers or Microsoft Office.
Grammarly is also available on smartphones. Add the Grammarly keyboard app to a phone and never make a mistake while typing on your phone's keyboard again.
Quick Info
Use Grammarly anywhere
Save documents across platforms
Find and edit writing errors with ease
Plagiarism Detector
Professional proofreaders on standby
Enhance your vocab with word suggestions
A Writing App for the Writer
Grammarly is a writing app. You can create documents in the Grammarly app just like you would in Microsoft Word or Google Docs. Each document that you create is then linked to your account so that you can get access to it from the cloud.
You can also expand your dictionary so that you can use with any documents.
With Grammarly, you can make sure that your writing is free of errors with error detection that happens automatically depending on the settings you chose. The automatic error detection detects grammatical errors such as sentence fragments, improper usage of punctuation, inappropriate use of tenses. It also identifies misspelled words and shows you the proper spelling. Any mistakes in your writing will be underlined (color-coded). Each color corresponds to a specific type of error to clarify and make your editing easier. Red is a misspelling. Yellow is a grammar and sentence composition. Anyone can turn checks off if they don't pertain to the writing that they are doing.
Style is Everything
Grammarly provides different style options for checks and proofreading.
The Academic Style setting which is Grammarly's version of a college professor grading an essay or dissertation. Not only does Grammarly find grammar and punctuation mistakes, but it also detects the use of a passive voice, contractions, informal pronouns and pinpoints sentences that have unclear antecedents.
The Business Style checks the document to make sure it fits formal writing criteria, but it allows some informality that the academic setting does not.
The General Style is Grammarly's default, out of the box, style which isn't too strict on checking.
The Technical Style is for technical writers, and it helps avoid ambiguities. It detects missing serial commas, the use of future tense, subjunctive mood, and abbreviations and expressions like "etc.".
The Creative Style is one of the more permissive styles on Grammarly. It finds grammar, punctuation, and spelling mistakes but allows for some grammar bending to achieve stylistic effects. The Creative Style will not flag sentence fragments, wordy sentence, informal words, informal pronouns, passive voice, incomplete comparisons, or run-on sentences.
The Casual Style is for people who just want to write or communicate with others. It doesn't flag most things that the other settings do.
Extra Tools With Premium Version
The premium version of Grammarly offers a few extra features unavailable in the lite version.
Plagiarism Detector - Checks if your content comes up from any other source on the internet. Just add your original content to Grammarly and run the Plagiarism Detector.
If Grammarly detects plagiarized content, it will highlight it and provide you the percentage copied. A yellow rating means that some of the material in the document is unoriginal - these could be quotes, etc. A red rating indicates that the text is most likely a copy and paste job.
Vocabulary Enhancement Tool - With the premium version, you can expand your vocabulary with the Vocabulary Enhancement Tool. This tool gives you a list of word synonymous that can be used to replace text. You will never have to use the same word twice.
Proofreaders On Standby  - If that's not enough, Grammarly provides professional Proofreaders on standby to offer tips.
Upgrade to the Premium Version Now!
You can choose between three payment options. There is the monthly payment option which is $29.95 / month. Then there is the quarterly option which is $19.98 / month but billed as one payment of $59.95. Finally, there is the annual option of $139.95 ($11.66 per month).
For businesses with a 3-user minimum, there's a $10/month subscription with admin and management controls.
Frequently Asked Questions
How do I check for Plagiarism? Go to the left-hand navigation bar and enable the "Plagiarism" feature. 
Can I use Grammarly on a Mac computer?
Yes, Grammarly is compatible with Apple computers. You can access Grammarly 3 ways:
Using the Online Editor at https://www.grammarly.com
Using the Safaris, Chrome, or Firefox extension
Using the Grammarly macOS standalone app.