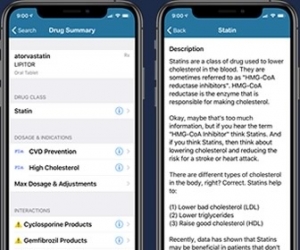 Pocket Pharmacist is a drug information resource utilized by physicians, Nurses, pharmacists, patients, and caregivers to help them better understand and manage their (patient's) medications.
The app provides drug information on more than 1,700 common medications approved by the USFDA including an interaction checker that lists possible dangerous interactions between different medications.
Patients and their caregivers can also use the app as a medication organizer and reminder. Finally, the users can chat with other app users via online chat forum.
Using the Pocket Pharmacist apps feels like you are talking to a live pharmacist versus reading through an encyclopedia.
About the Developer of Pocket Pharmacist
Michael Guren, Doctor of Pharmacy and the Founder and CEO of Danike, Inc., developed the Pocket Pharmacist app.
Testimonials
Don't take our word for it, here are some of the latest reviews ...
Everyone needs this app!
Mar 25, 2019 by Nora Jane Pearlito. I fell in love with this app as soon as I started using it. This is something I really needed, keeping up with my own meds in addition to those of various family members. Very user friendly. I've only ever had trouble with this app once. It either wouldn't open, freeze on the main pain and possible a couple of other things, I don't recall. I received immediate, very responsive attention after I reached out to get this fixed. One reason I chose this app was because it was free, I don't pay for apps. If I'm not mistaken, the bugs I mentioned above were not long after this change. I mentioned that I don't pay for apps but would gladly pay for this one because it truly makes part of my life so much easier & that truly depend upon it but that I would not pay until it was working correctly. App fixed, working perfectly, happy me, ready to pay. Then he gives me a free subscription for my troubles! Very happy girl. I had been using this app a few years before this issue occurred and while I don't typically leave reviews, I intended to for this because it worked so well for me…I never did. Then, after the instance where I had difficulty, the speed in which my issues were resolved & the friendly response I knew I HAD to leave a review. So approximately six months later here it is. Long review = Great product
High quality
Mar 10, 2019 by cfrisch14. I don't normally write reviews but I have been using this app for a long time and I use it almost on a daily basis. There are many reviews out there that are upset with the subscription based service now, and I admit when it first popped up I deleted the app and tried to find another. I found many other apps but none had the quality of content and ease of use as this one. I am a paramedic and use this app almost daily for drug interactions and what not with patients. To me the $10 a year is worth it for medical professionals. If you don't feel like the price is worth it then you should download and use a different lower quality app, as for me I will gladly pay the fee for the quality of information. Keep up the good work.
Amazing app!
Dec 7, 2017 by steve oc.  Since my stroke, I have a vast number of medications prescribed by doctors. This app has helped me be an informed partner in my health care. It often provides the basis for discussion with my physician -- particularly when prescribing new medications or when I have concerns about side effects. As others have mentioned, there are plans to change to a subscription model in the future.I believe this fair because this app functions as a pharmacist that you can consult at any time. Medications and information about them is always changing.
MOTHER
Jan 28, 2019 by Skiamir. This app has been developed for nine years and it still works on older iOS devices the subscription shouldn't be an issue and if you feel after nine years a pharmacist putting his time developing this is insufficient well maybe it's best you'll look elsewhere because you cannot find any more concise app than this. It has helped me through numerous surgeries numerous oncology patients and numerous times where the standard databases have failed me ...
The Best!
Mar 21, 2019 by Docaucoin. I have used this app for myself and to help my patients understand their own. It provides more than basic information about a medication. You can easily access interactions between meds, including which medication contributes how much of any side effect. I think this app is a must have for anyone who wants to be knowledgeable about medication they are currently taking or may be taking ...
This is a great App and awesome developer
Oct 24, 2018 by Sammy Carr. I have a list of medical issues and therefore an even longer list of meds. This app helps me keep track and find any interactions. A couple of updates ago there was a bug but I reported the issue and the developer was aware of the issues and had a fix within a few days. Nice to know they are on top of it and quick to respond.
Features 
Drug Information
Unbiased information (zero pharmaceutical sponsorship and no advertisements)
Drug summaries curated and summarized by a Pharmacist (Doctor of Pharmacy)
Wicked fast drug search
Interaction Checker
Super accurate
Easy to understand
Provides interactions and overlapping precautions and side effects
Med Quiz
Test your drug and medication knowledge
Unlimited multiple choice and flashcards
The best drug study guide, period
Med Box
All your medication information nice and neat
Run interaction checks
Share by print/email with your medical team
MSRP:  In-App Purchases
Pocket Pharmacist Monthly: $0.99
Pocket Pharmacist Yearly: $9.99
Version / Model
iOS 10.3
iOS 12.2 (latest)
Product Details / Specifications
Seller: Danike, Inc.
Size: 63.2 MB
Category: Medical
Compatibility: Requires iOS 10.3 or later. Compatible with iPhone, iPad, and iPod touch
Languages: English
Age Rating: You must be at least 17 years old to download this app
Unrestricted Web Access
Frequent/Intense Medical/Treatment Information
Copyright: © 2010 Danike, Inc.
Promos
Download for a free trial. No login required. Nothing to opt-out. Nothing to cancel.
Where to Purchase
Warranty / Return Policy
Contact Information
Telephone: 1-949-212-8179
email: PocketPharmacist@danike.com
Edited by sirI
format for publication