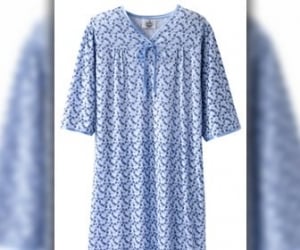 The Women's Soft Knit Comfortable Full Coverage Hospital Gowns by Silvert's offer a full back overlap for complete coverage and dignity. Snaps are placed on the shoulders to avoid pressure points unlike traditional tie-back hospital nightgowns that employ uncomfortable snaps or ties down the back. These gowns are not only attractive and comfortable for your client/patient, Nurses will discover that placing the Women's Soft Knit Comfortable Full Coverage Hospital Gowns on the client/patient is very easy. These gowns are the perfect choice for elderly/seniors who are disabled or wheelchair dependent.
Features
Silvert's Hospital Gowns are different in that there are no pressure points. Patients do not lay or rest on closures. The client/patient will enjoy complete dignity. The gowns utilize full back overlaps and are very attractive. Nurses, your patients will look good, feel good and most importantly ... be comfortable.
Versions Available
Wide selection of sizes, colors, fabrics, patterns, and styles.
Product Details / Specs
Made of quality machine washable soft jersey knit polyester-cotton interlock (65% polyester / 35% cotton)
Satin trim
Comfortable raglan sleeves
Strategically placed shoulder snaps
Machine washable
Used in nursing homes, homecare or hospitals
Frequently Asked Questions
What sizes are available?
S (6-8)
M (10-12)
L (14-16)
XL (18)
2XL (20)
3XL (22-24)
How do I place one of the gowns on my client/patient?Be sure the client/patient is in a seated position or prone position. Insert the client/patient arms into the sleeves. Pull the garment up to the shoulders. You will then wrap the overlap across the back. The dome/snap closure on each shoulder is snapped into place. If the individual is in a prone position, roll the client/patient over or lift at the shoulders and the generous overlap across the back is snapped into place on top of the shoulders.
What colors are available?Our colors include, Blue desert, Dots, Lemons, Pink Petal, Purple Bloom, Soft Pastel.
MSRP
$34.00
$39.00
Promos and Offers
$4 off Enter promo code 4free
Return Policy
Silvert's GUARANTEES that if you are not 100% satisfied with your purchase, you can simply return it to us in saleable condition for a refund within 45 days.
When you contact us you can specify whether you prefer a complete refund or would rather exchange products. You can contact Silvert's via our website contact form or you can call toll free: 1-800-387-7088 or email the Customer Service Manager.
Contact Information
Customer Care: customercare@silverts.com
Address: 3280 Steeles Avenue West, Suite 18, Concord (Toronto), Ontario, L4K 2Y2, Canada
Toll-Free: 1-800-387-7088
Telephone: 905-738-4545
Fax: 905-738-6236
Where to Purchase
www.silverts.com
Call 1-800-387-7088 for a Free Catalog
What Comes in the Box
Women's Soft Knit Comfortable Full Coverage Hospital Gown in color(s) and size(s) ordered.
Edited by Joe V