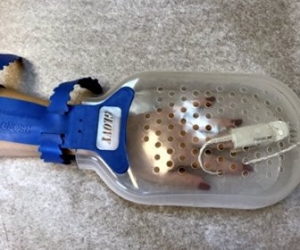 The GLOVY™ Patient Safety Device, invented by a Vascular Surgeon, is a non-restraining device that prevents removal of pulse oximeters, IVs, PICC lines, catheters, dressings, etc., while maintaining patient dignity and freedom of movement.
The device consists of two pieces: a top shell and a bottom shell. The bottom shell is marked as PALM. This piece is placed under the palmar side of the patient's hand. The second part is marked as TOP. This piece is placed over the dorsal side of the patient's hand. These two pieces snap together quickly and easily, forming a secure connection.
The Glovy device is fastened to the forearm with two straps. Glovy has multiple holes to allow for adequate air circulation and there is plenty of room for the patient to wiggle fingers and even make a fist. There is an opening at the tip of Glovy to accommodate a pulse oximeter wire or other small tube. IV catheters and wires can also be directed through the forearm end of the device.
Patients cannot grasp catheters or the attached devices and dislodge them once Glovy is applied. Patients also cannot scratch themselves or the nursing staff with their fingernails. This provides for a much safer setting for the care of confused patients.
Glovy is not considered a restraint and does not require a physician's order to implement.
About the Company
GLOVY™ was invented by a physician who recognized the need for change. After seeing many patients with cognitive effects having to be restrained in order to protect IVs, wires, and/or other medical devices from becoming dislodged, Vasso Godiali MD, PhD knew he must solve the problem.
Our company and our product was created on the premise of patient dignity and that safety of the patient and the staff is first and foremost. Medical devices should be of superior quality and easy to utilize especially under chaotic and/or stressful conditions. After years of research and design, considering both patient and staff input, we have brought to you, GLOVY™.
Features
Latex-Free
Safe and secure design
Transparent
Easy-to-Use
Non-restraining
Perfect for post-anesthesia and dementia patients
Glovy is less than 1/3 of the average cost to replace an IV just once
Versions Available
1st Generation product
MSRP
Please request Sales Specialist contact.
Promos and Offers
We are able to offer pricing adjustments in certain qualifying situations, including volume discounts.
5% discount on 1,000
Contact Information
Mailing Address: GLOVY, LLC, 2010 15th St, Bay City, MI  48708
Telephone: 419-410-1746 or 1-989-714-1504
Email: glovymedical@gmail.com
Product Details / Specifications
Glovy is made from transparent plastic, which allows for easy observation of the color of the patient's hand. Glovy is latex-free.
Where to Purchase
Please request Sales Specialist contact.
Use Sales Code CEE18
What Comes in the Box
GLOVY™ Patient Safety Device
Edited by Joe V