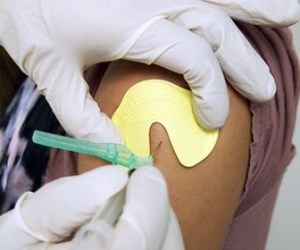 Nurses, do you wish there was a way to decrease the pain your patients experience with injections? The Bionix Shot BlockerⓇ instantly reduces needle pain at the injection site. The blunt contact points of the Shot BlockerⓇ saturate sensory signals around the injections site, creating a distraction to the nerves. The disposable design minimizes cross-contamination.
The Shot BlockerⓇ has been created for both intramuscular and subcutaneous injections. It is perfect for use in the arm, hip, or thigh. Use it for both pediatric and adult patients to decrease the pain felt during injections.
About the Company
For more than 33 years, Bionix Development Corporation has been focused on "going beyond". They are a quality driven, service oriented multinational company committed to acquiring, developing, manufacturing, and marketing innovative medical solutions to make your job easier. Bionix Development Corporations strives to improve the lives of patients through better health and personal care.
 
Quick Recap
Instantly reduces needle pain
Blunt contact points saturate sensory signals around the injection site
Generates instant distraction
Disposable
Use with intramuscular and subcutaneous injections
Use for adults and pediatrics
Benefits
Injections are painful. No one enjoys receiving or giving injections. The Bionix Shot BlockerⓇ can change this. You can give injections to your patients knowing they will have decreased pain instantly. Once you have given the injection, just throw away the Shot BlockerⓇ to keep cross-contamination to a minimum.
Product Details/Specs
The Shot BlockerⓇ uses the Gate Theory of Pain management by saturating sensory signals around the injection site.
Features
Contact points create an immediate distracting effect
No wait time
Use for intramuscular and subcutaneous injections
Easy to use
Simple design
Single-patient use reduces the risk of cross-contamination
MSRP
$5.99 for one at Bionix Health at Home. If you are in need of a large quantity of the Bionix Shot BlockerⓇ, you can request a price quote by completing the form online.
Promos and Offers
Bionix sells to organizations and you can obtain a quote by completing a form online. If you want to purchase this product for personal use at home, you can buy the Shot BlockerⓇ directly at Bionix Health at Home. You can also purchase this from other retailers. Be sure to shop around to get the best pricing possible.
Frequently Asked Questions
How does Shot BlockerⓇ work?Shot BlockerⓇ uses the Gate Control Theory of Pain Management to decrease pain at the injection site. This theory states that there are gating mechanisms in the spinal cord that controls pain. When this gate is open, pain signals are sent to the small fibers in the brain and pain is felt. If you can keep this gating system closed, pain will not be felt. The Shot BlockerⓇ stimulates the nerve fibers around the injection site, blocking the normal pain gates to open.
What is the added cost to injection procedures when using Shot BlockerⓇ?Using the Shot BlockerⓇ will add about fifty cents per device to every injection.
Is it possible to receive free samples of the Shot BlockerⓇ?
Yes, you can fill out the 
Request free sample
 form to obtain free samples..
Warranty
Contact Bionix Corporation directly for questions about the warranty on the Shot BlockerⓇ.
Return Policy
Contact Customer Service for all returns.
Contact Information
You can speak with a Customer Service Representative by calling 1-800-551-0796. If you prefer email, you can send your question to customerfeedback@bionix.com.
What Comes in the Box
Depending on the purchase order, the product arrives in single-use packages or boxes of 50 or 100.