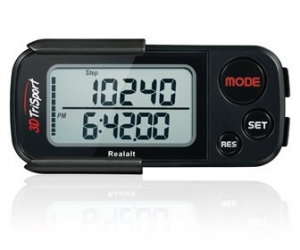 The 3D TriSport Walking 3D Pedometer by Realalt comes with 3D accurate motion sensor, timer, and clock. You can track your steps, distance walked, and calories burned with ease. It has a 30-Day memory so that you can track and trend your activity. Set your daily steps goal to monitor your progress towards overall weight and activity goals.
The Company
Realalt is located in the United Kingdom and creates pedometers for busy people. If you are looking for a pedometer to monitor how much walking you do in a eight or twelve hour shift, Realalt has a pedometer for you.
Quick Recap
Accurate 3D motion sensor
Timer
Clock
Track steps, distance, and calories
30-day memory
Daily steps goal
Benefits
If you are ready to track your daily activity levels on and off the job, this pedometer is for you. You can set daily and monthly goals to increase activity and burn calories.
Product Details/Specs
1.3 inches high by 0.4 inches deep by 3.0 inches long
Features
3D accurate motion sensor
Tracks steps, distance, and calories burned
Time and clock
Daily step goal
Large display
30-day memory
Simple button function to view records on the move
No charging required
Battery included, up to 12 Months of battery life
Comes with a removable clip, lanyard, and screwdriver
MSRP
$39.72
Promos and Offers
Realalt offers sales on their products on their website. You can also purchase their products through Amazon and other online stores. Shop around to get the best price.
Frequently Asked Questions
My distance record is higher/lower than expected. What would cause this to happen?Inaccurate distance records are usually caused by your stride length being set too high/low. The average stride length for women is 26" and 30" for men. If you need to adjust your stride length setting, access Setup Mode, go to step six, Stride Length Setting to adjust this to your new stride setting.
My 3DTriSport Pedometer is not counting all of my steps?The 3DTriSport has a 10-step error prevention feature, which means that it will only begin counting steps once it detects motion of approximately ten continuous steps. This prevents it from counting random movements as recorded steps. This feature helps to ensure accuracy of your step count.
Customer Support
Please contact Realalt via a Support Ticket at www.realalt.com or send an email to: support@realalt.com.
If you are having problems setting up your pedometer, please refer to the Setup Help videos.
Warranty
The Realalt Walking 3D Pedometer includes an 18-month limited warranty from the date of purchase. We take care of any defect or malfunction with a Replacement or FULL refund, without any charge.
Return Policy
All returns must be authorized by the Customer Care department. Contact them to discuss a return or replacement of your pedometer.
What Comes in the Box
Pedometer, Removable Clip, Lanyard, and Screwdriver.