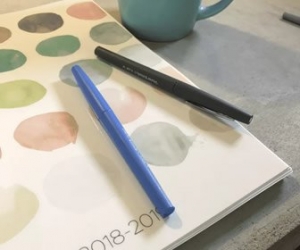 Imagine a calendar that can organize your school schedule and life in one place. Well, it is here and it's called the Nursing School Planner by Straight A Nursing. This planner will help you stay organized throughout Nursing School. With study guides, nursing planners, podcasts, and more, you can find many tools to increase your nursing school success all in one place.
This Nursing School Planner was created just for Nursing students as well as Pre-Nursing students. It will keep you organized and set you up for success. This printable planner contains a 12-month dated academic planner (July thru June) and features everything a Nursing student needs. Not only is it functional, it is beautiful, too, and offers a layout that makes sense.
About Straight A Nursing
Straight A Nursing was created by an experienced CCRN-certified, critical care Registered Nurse and is for Nursing students, Pre-Nursing students, experienced Nurses, and newly licensed Nurses. Here you will find premium study guides and other items designed with your busy schedule mind. These resources will help keep you organized in your Nursing program as well help busy experienced Nurses stay organized.
Quick Recap
Printable planner created just for Nursing students
12-month dated academic planner
Runs June to July
Functional
Beautiful colors
Benefits
Nursing students are busy. You need to be organized. This planner will have you organized in no time so that academic success is the only thing on your mind.
Testimonials
... "I love the organization tips and will use EVERY single one of them! ... " - Dawn
" ... Organization and the ability to plan ahead are must have skills to be successful in school and this guide will tell you what you need to know ... - Trista
... "It gave great advice about how to organize my life and study sessions to make school less overwhelming. I used her suggestions my first semester of nursing school and was very successful ... " - Nessa
Product Details/Specs
Dimensions: 8.5 inches by 11 inches
Choose colors from flowers, watercolor, or paisley print for the cover
Features
Two-page monthly spread
Two-page weekly format
Easy place to keep lists for home and school
Keep track of the things that matter most
Track bills and savings
Provides a place for hydration and diet information
Easily plan holidays, birthdays, and assignments in one place
Read the useful Nurse Facts printed on each week
MSRP
$15.00
Where Purchased / Promos and Offers
The Nursing School Planner by Straight A Nursing (all 3 colors) is offered through the Etsy Store. Visit the Straight A Nursing site for any promos or offers.
Versions Available
The cover comes in flowers, watercolors, or paisley print(s).
Warranty
No warranty is included with this product.
Return Policy
If you need to return products to Straight A Nursing, contact them through their website.
Contact Information
If you have questions about the products found on Straight A Nursing, you can complete the contact form here.
What Comes in the Box
Printable Nursing School Planner (in color ordered)
Edited by Joe V