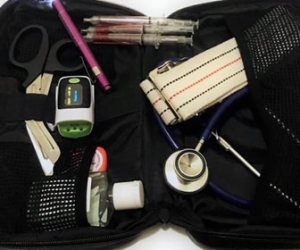 The Caring Hands Kit offers a durable but stylish medical kit that includes the supplies that are utilized throughout the medical professional's shift. This product is designed Nurses and his or her fellow colleagues in mind to provide them with a custom black, matte leather, waterproof case, mesh compartments, and spandex straps that securely hold the following supplies: Gait Belt, Hand Sanitizer, High Lighter, Measuring Tape, Pen Light, Pupil gauge, Pulse Oximeter, Scissors, Sharpie, Stethoscope, and Syringe Pens.
About the Company
Dara Peaks is the inventor and owner of Caring Hands Kit, LLC. In 2011, Dara was affected by the big "lay-off" after 20+ years of corporate life and decided to pursue her dream of becoming a Nurse. In 2013, Dara became a Licensed Practical Nurse and has held the position of Charge Nurse specializing in Alzheimer's, Long-Term Care, Rehabilitation, and Medicare at medical institutions in Illinois, Missouri and Georgia.
Dara invented the Caring Hands Kit following nursing school when she saw a demand for an affordable medical kit that included supplies utilized throughout a medical professional's shift. After visiting several stores and unable to find an affordable medical kit that included the necessary supplies, Dara developed her vision. She personally designed every compartment, pocket and strap to the specific dimensions of each included item so that it fits safely and securely in the kit. In addition to the design, Dara ensures the Caring Hands Kit is cost-efficient. Following countless hours of research and prototypes, Dara was able to create an affordable quality medical kit.
Dara is a New Orleans native currently residing in Georgia. She is a mother of two and has two beautiful grandchildren. In addition to operating Caring Hands Kit, LLC, Dara has a passion for continuous learning and is a part-time student. When time permits, she enjoys caring for others as a travel nurse.
Benefits
The Caring Hands Kit is an ideal medical kit for Nurses, Nursing Assistants, EMT's, Occupational Therapists/Assistants, Physical Therapists/Assistants, and Home Health Aides.
Features / Specs
Waterproof
Leather
Zipper
Batteries Included
Mesh Compartment
Spandex Straps
Included in the Kit
Gait Belt (durable cotton, quick-release metal buckle, 60" long/2" wide)
Hand Sanitizer with Aloe and Vitamin E
High Lighter (yellow)
Measuring Tape (40-inch retractable tape printed in inches/centimeters)
Pen Light (LED light with push top on/off switch)
Pupil gauge with metal pocket clip (batteries included)
Pulse Oximeter with lanyard (batteries included)
Scissors (multi-purpose and bandage)
Sharpie
Syringe Pens (black ink)
MSRP
$139.00
Where to Purchase
Promos and Offers
Free shipping
Occasional offers and specials
New products coming soon
Gift wrapping ($5)
Write a review: $139.99 $111.99 - You save $28.00 (20%)
Guarantee
30-day money back guarantee
Return Policy
30-day money back guarantee
Customer Care Contact Information
Address: Caring Hands Kit, LLC - PO Box 723726, Atlanta GA 31139
Email:  caringhandskit@yahoo.com
Telephone: 770-820-5994
Website: Caring Hands Kit, LLC
What Comes in the Box
Caring Hands Kit with listed supplies included