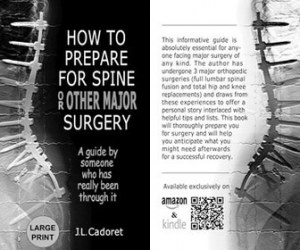 How to Prepare for Spine or Other Major Surgery: A guide by someone who has really been through it, will thoroughly prepare you for surgery and will help you anticipate what you might need afterwards for a successful recovery.
Preface
Major surgery is a REALLY big deal and should always be considered as a last resort. Once you've exhausted all of your other less invasive options and you've made up your mind to go "under the knife", your attitude and preparedness are what will help you be a great patient and make your recovery (and thus your surgery) a big success.
About the Author: Jan L. Cadoret
The author has undergone 3 major orthopedic surgeries (full lumbar spinal fusion and total hip and knee replacements) and draws from these experiences to offer a personal story interlaced with helpful tips, suggestions and lists.
My Experience
My first major surgery was in June of 2015 when I underwent a complete lumbar spine fusion (T10-S1 pelvis). I was on the operating table for over 10 hours and had been told to expect an initial recovery time of around 6 weeks. Because I didn't have family living nearby, I was going to have to rely on close friends during my recovery. I wanted to be as prepared as possible and not be too much of a burden on my friends, so I tried to imagine every potential scenario and to anticipate my every "need" BEFORE the moment that I actually might need it. Being an information junkie, I researched every aspect of my impending procedure several months in advance. Doing that proved to be really useful. I discovered that information on "how" to prepare for surgery and, maybe more importantly, for recovery, seemed sparse and not very well organized. Later, almost every member of my medical team commented that I was remarkably informed and seemed thoroughly prepared for the upcoming recovery.
My second major surgery, in the Summer of 2018, actually consisted of multiple procedures. I was on calendar for (and was expecting) a total hip replacement (THR), but once the surgery began, my surgeon discovered that two of my gluteus muscles were completely severed in half. The surgeon had to repair those two muscles after he completed the hip replacement. Imagine my surprise (well, actually... horror) when I awoke after the 2-hour surgery and my anticipated 1 month of recovery time had been extended to 3-4 months of almost total inactivity (NO weight-bearing allowed on my right leg) so the newly repaired muscles would have time to properly heal. What a huge disappointment!
My third (and hopefully my final) major surgery was a total knee replacement (TKR) in the fall of 2018. When I first started collecting information, my sole intention was to organize all of the scattered facts about surgery and recovery to help myself become more informed. As my notes grew, I realized that this information might also help others. And, as my personal experience evolved, I realized that to truly prepare someone for the various outcomes of major surgery, I should disclose everything that actually happened to me as direct and indirect consequences of my surgeries.
Tip
If you tend to have allergies, consider asking for a metallurgical test. For instance, mine showed that I am allergic to nickel and gold, but not to surgical metals chromium or titanium. It's good to know.
Risks Associated with Implants
Any of the following may occur and may lead to an additional ("revision") surgery
nerve damage
fracture of the implant or surrounding bones
dislocation, loosening or wear of the implant
sensitivity to the metal implant
soft tissue imbalance
reaction to particle debris
audible sounds during motion of the joint (NOT the normal little "clicks")
heterotopic bone formation (abnormal bone growth in your tissue)
osteolysis (localized progressive bone loss)
Target Audience
This informative guide is absolutely essential for anyone facing major surgery of any kind.
Product Details
Paperback: 121 pages (or eBook File Size: 7742 KB)
Publisher: CreateSpace Independent Publishing Platform (March 31, 2019)
Language: English
ISBN-10: 1539657485
ISBN-13: 978-1539657484
Product Dimensions: 6 x 0.3 x 9 inches
Shipping Weight: 8.5 ounces
Large Print
MSRP
Kindle: $7.99
Paperback: $9.99
Contact Information
Telephone: 1-415-481-7551
Where Sold