"Do No Harm" Applies to Nurses Too!
The sought-after book, "Do No Harm" Applies to Nurses Too! by Renee Thompson, offers strategies on how to handle nurse-to-nurse bullying.
Review Product Today!


Avg Rating: 0.0

Recommend

Performance

Features

$8-$19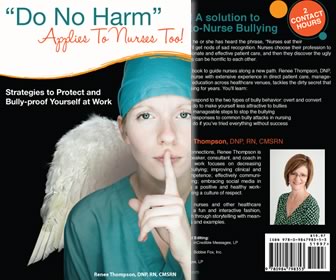 A Solution to Nurse-to-Nurse Bullying
Ask any nurse If he or she has heard the phrase, "Nurses eat their young," and you'll get nods of sad recognition. Nurses enter into the nursing profession to deliver compassionate, skilled, and effective patient care. When they actually begin their first nursing job, they may soon discover the ugly in nursing: nurses can be horrific to each other. Finally, here is a book to guide nurses along a new path, "Do No Harm" Applies to Nurses Too! Renee Thompson, DNP, RN. CMSRN, a nurse with extensive experience in direct patient care, management, and nurse education across healthcare venues, tackles the dirty secret that has plagued nursing for years.
About the Author
Renee Thompson DNP, RN, CMSRN
Renee Thompson, founder of RT Connections, is a sought-after international speaker, consultant, nurse bullying expert, and coach in healthcare. With more than 26 years of clinical experience, nurse educator and nurse executive, her work focuses on decreasing workplace nurse bullying; improving clinical and professional competence; effectively communicating and leading; embracing social media in nursing; building a positive and healthy workplace; and nurturing a culture of respect. Renee has a Master's degree in Nursing Education and a Doctorate of Nursing Practice from the University of Pittsburgh. To stay connected with nurses and nursing issues, Renee continues to practice as a bedside nurse.
Benefits
Readers will learn strategies to stop the cycle of bullying
Book Details
ISBN# 978-0-9847983-5-3 Paperback; 978-0-9847983-6-0 eBook
171 pages
Publisher - inCredible Messages Press
Publication Date - 2012
Edition - 1st
Formats - Paperback; Kindle
Table of Contents
Chapter 1 - Nurses are Eating Their Young - Everywhere
Chapter 2 - Meet the Bully Family
Chapter 3 - Bullying Attraction Factors - Who Makes a Good Target?
Chapter 4 - Laying the Foundation to Protect Yourself
Chapter 5 - The "Why" Behind Nurse Bully Behavior
Chapter 6 - Profiles of Bully Nurses You May Know
Chapter 7 - Steps to Stop the Bully
Chapter 8 - When Enough is Enough
Chapter 9 - What to DO if the Bully is You
Chapter 10 - It is Time for Everyone to Act
Bonus Section for Organizations
About the Author
Why Choose Renee for Your Next Event?
Suggested Readings
Contact Hours
Where Sold
MSRP
$19.97 (Paperback)
$8.97 (Kindle)
Promos or Offers
SAVE30 Gives 30% off
Disclosure: We strive to provide accurate information, but we make no guarantees about the information. By using this page you agree to our Product Directory Disclaimer If you see something wrong please Send Us a Message. If you would like to add your product please submit a request via our Product Directory Request form.