About/FAQs: Beth Hawkes MSN, RN-BC, HACP
Submit your career-related questions to Nurse Beth, allnurses.com's advice columnist. Beth is prepared to address questions pertaining to your career, education, management, policies, and more. Questions are submitted confidentially and are not tied to member account.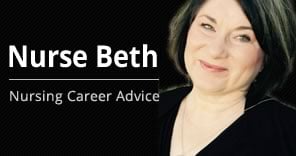 Nurse Beth, MSN, RN-BC, HACP, has more than 25 years of experience in clinical and leadership positions. She has a passion for helping nurses, and as a professional writer has written several articles about interviewing, resumes, navigating the job search network, and much more. Beth just published Your Last Nursing Class: How to Land Your First Nursing Job. It's the ultimate guide with insider tips to land your nursing job!
Last Update Jun 5, '15
As a nurse with an MSN and Board Certification in Staff Development, I have over 25 years of nursing experience including Telemetry, ICU, Endoscopy, Med Surg, and Ortho. I've worked as Nurse Manager, Charge, House Supervisor, Informatics Educator, Nursing Instructor, and currently am the MedSurg Educator for 4 nursing units and about 150 nurses. I work closely with new grads in our Versant Residency Program, train Preceptors, teach Arrhythmia, chair our Nursing Policy Committee, and sit on many committees where I advocate for bedside nurses and best practice. I precept graduate nurses and mentor new grads.
I also am a professional writer, writing for allnurses as well as for two blogs, one of which is my own, nursecode.com. I am a Subject Matter Expert for HealthStream where I write competencies, and a Versant Residency Consultant, where I write curriculum. In my spare time I create nursing infographics to post on Pinterest and raise chickens in our downtown backyard with my husband. The latter of which makes us cutting-edge urban farmers (in our minds).
I'm a nurses' nurse because my heart and my point of view has always been that of a bedside nurse. It's important to me that processes make sense for the bedside nurse and practice is evidence-based. I'm known as our hospital's researcher, policy person, and fact checker.
I love learning, and just recently earned my Chemotherapy Provider Card, as we are expanding our Chemo Service Line and I want to learn all I can to help our nurses care for these patients and ensure safe handling practices to protect our staff.
Writing a nursing column is a dream of mine that combines my passion for writing with my passion for helping nurses. I am frequently emailed and messaged for career advice as I have written several posts about interviewing, resumes, and job searches. New grads in particular have a hard time getting a start today, and I want to share my insights gained as a Nurse Manager and an experienced nurse to help them.
Writing a nursing column on allnurses.com exceeds my dream because there is so much nursing wisdom and experience all here in one place.Together we can help and support each other.