Ask Nurse Beth: Career Advice
Submit your career-related questions to Nurse Beth, allnurses.com's advice columnist. Beth is prepared to address questions pertaining to your career, education, management, policies, and more. Questions are submitted confidentially and are not tied to member account.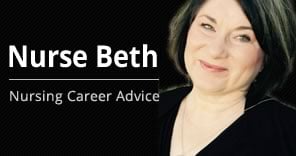 Nurse Beth, MSN, RN-BC, HACP, has more than 25 years of experience in clinical and leadership positions. She has a passion for helping nurses, and as a professional writer has written several articles about interviewing, resumes, navigating the job search network, and much more. Beth just published Your Last Nursing Class: How to Land Your First Nursing Job. It's the ultimate guide with insider tips to land your nursing job!