Ask a Nurse Attorney
Submit your legal questions to Lorie A. Brown, RN, MN, JD, allnurses' legal columnist. Lorie is prepared to address questions pertaining to your career, employment, contracts, and more. Questions are submitted confidentially and are not tied to a member account. Lorie's responses are not specific legal advice nor are they to be used as such.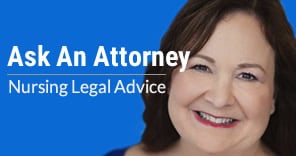 Lorie A. Brown, R.N., M.N., J.D. of Brown Law Office, is a practicing Nurse Attorney who represents nurses for licensing issues before the Board and for employment and contract issues. Lorie has 30 years of experience empowering nurses. Visit her website, empowerednurses.org. The views expressed in this column are those of the author and not allnurses.com INC.