Promote Your Brand on allnurses.com
Over 1,083,201 nurses and nursing students come to allnurses.com looking for answers. allnurses.com is the world's largest professional nursing site.
« Back to Advertising With allnurses.com
Advertising Opportunities
Custom discounted packages are available upon request.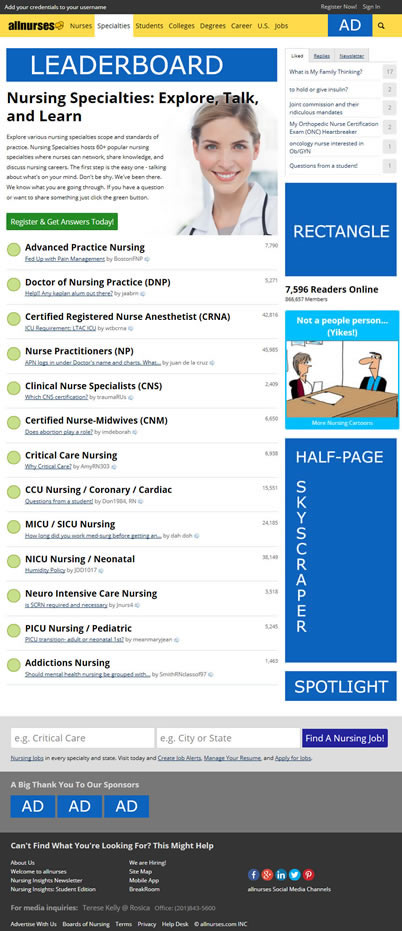 Display Advertising
Advertising space available on homepage, round-of-site, and individual forums. Creatives should be provided in JPG, GIF, FLASH, VIDEO, or HTML format. Expanding Leaderboard is available at additional costs.
Available ad sizes on allnurses.com Network
Leaderboard (728x90)
Max File Size: 40k
Available on Desktop and Tablets
Medium Rectangle (300x250)
Max File Size: 40k
Available on Desktop, Tablets, and Mobile devices
Wide Skyscraper (160x600)
Half Page (300x600)
Max File Size: 60k
Available on Desktop, Tablets, and Mobile devices
Mobile (320x50)
Max File Size: 40k
Available on Mobile (smartphone) devices
Custom Advertising
Increase brand exposure! Affordable! Get your brand in front of thousands of readers per day. Custom Advertising options are what we call "dedicated space". The space is dedicated only to the ad that is running at the time. First come first serve - Act fast! Space is limited!
Header Advertising
Header Ads are 120x50 small banner ads in header (near main navigation); visible throughout the site.
120x50
GLOBAL
Max File Size: 30k
JPG ONLY
White Background
Footer Advertising
Footer Ads are 120x60 small banner ads; visible throughout the site .
120x60
GLOBAL
Max File Size: 30k
JPG ONLY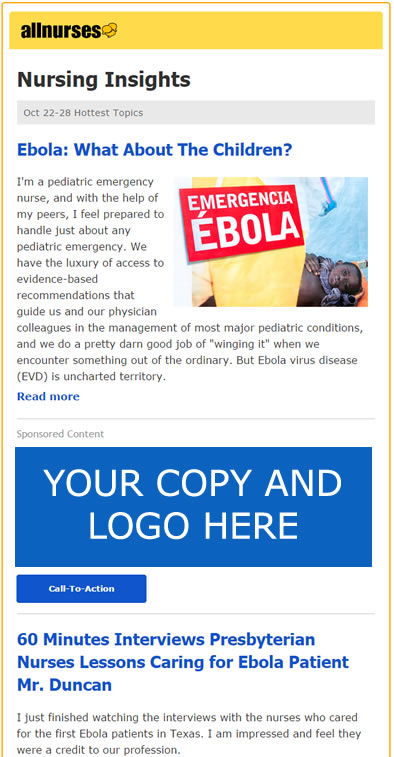 Newsletter Advertising
Our newsletter highlights the hottest topics found on allnurses.com. All issues are archived and indexed by Search Engines. Creatives consists of Logo (200x200 max) + Text (85 words) + URL
Nursing Insider
Nursing Student Journal
Eblast
Want to connect with nurses and nursing students? Have something to offer? Email Marketing is an effective way to introduce your brand. It's a dedicated space sent out to all our subscribers. Email Marketing is available twice per month. Plan ahead as this space is limited.
Sponsored Article
Create your own permanent real estate on allnurses.com. Sponsor an article on allnurses.com and interact with our audience directly. Excellent for branding with LIFETIME click through rate. More Authentic; More Engaging; and Higher ROI vs Banner ads. Plus, the content is shareable!
Maximum benefits are obtained when you meet the following recommendations...
700 words minimum (written in-house or your own writer)
Evergreen content (not dated) directed to nurses / nursing students
2 links max
Build trust. Converse with members as they comment on your article.
Cross link to your other Sponsored Articles
BONUS
Custom blog/profile page for all your Sponsored Articles
Permanent real estate on allnurses.com

Great way to direct members to your other Sponsored Articles
Additional space to promote your brand
Social Media Mentions
Reach our highly engaged followers through our various social media channels. Over 1 million facebook followers and growing Twitter following.
Facebook Requirement
504x504 and/or 2048x2048 image
Short message (5 lines)
URL
Optional: Engage our audience through polls, contests, and surveys.
Twitter Requirement
335x244 image along with short message and URL
Nursing Job Postings and Resume Access
Our Nursing Jobs site has several options for job postings and resume access. We have over 3,000 active nursing resumes and several discounted packages for employers and recruiters.